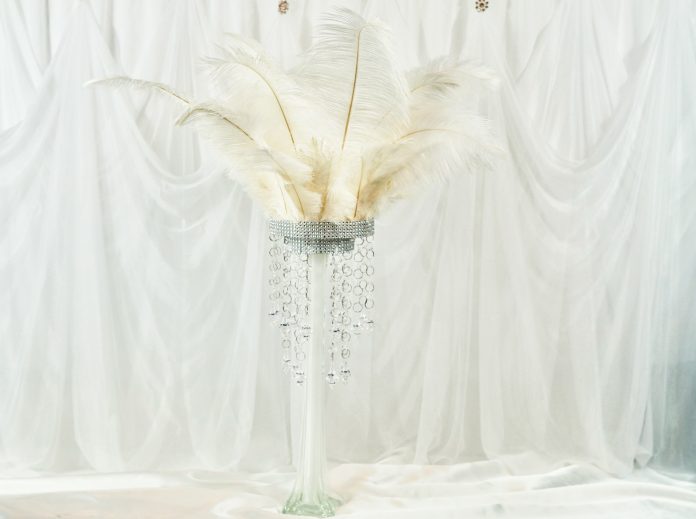 AN EASY FEATHER WEDDING CENTERPIECE TUTORIAL WITH CRYSTAL ACCENTS AND ROMANTIC LIGHTING.
A great way to enhance a DIY feather wedding centerpiece is to accent it with crystals and lighting. Today's project is completed in 4 simple steps and has an absolutely gorgeous outcome. Your guests are sure to be wowed as they gaze upon this sparkle and shine beauty. To save money, I was able to use LED push lights that I found for $1 at the Dollar Tree. So, what are we waiting for? Let's get started!
For video instructions, please check out the video tutorial below!
SUPPLIES:
Crafter's Square Decorative Plastic Gem Ribbon
Self-Adhesive LED Push Lights, 2.75 in
White Foam Discs – 4" 
Styrofoam Disc – 6" 
10pcs Ostrich Feathers 12-14inch 
20pcs Ostrich Feather Craft 8-10inch 
24″ Eiffel Tower Wedding Glass Vases-6 PCS-White
30PCS Acrylic Crystal Beads Garland Chandelier Hanging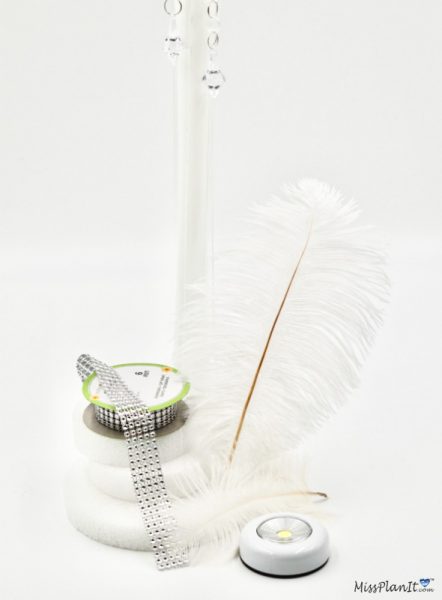 PROJECT COST *Cost of Featured Project $53.81 (Some supplies cover more than 1 centerpiece) * Prices fluctuate depending on coupon discount amount. *Price based on current sale cost. (taxes not included)
For written instructions, please continue reading below:
How To Make a Feather Wedding Centerpiece with Crystal Accents and $1 LED Push Lights
Directions:
STEP 1: As always it's important to have a strong base.  For this project we will be using 1- 16 inch tall White Eiffel Tower Vase, 2 – 4 inch Styrofoam Discs and 1- 6 inch Styrofoam Disc.  Attach the discs together with Floral Pins.  Make an indention on the bottom 4 inch disc with the rim for the vase.  Attach Gem Ribbon to the bottom 2 discs.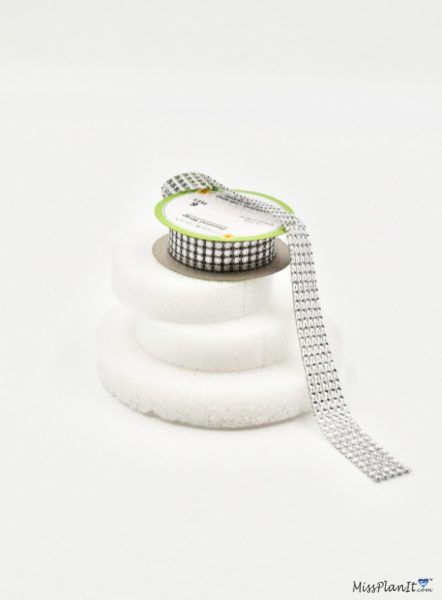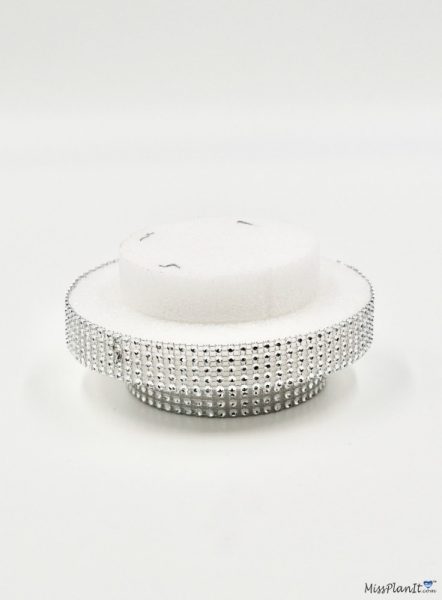 Final Step! Turn on your LED Lights
 

to WOW your guests!


Alternate this Tall Centerpiece with simple elegant candle centerpieces to create depth and visual appeal, not to mention cutting your cost even further!
 

Here at MissPlanIt, you know what our motto is!

 

When every penny counts, count on MissPlanIt! See you next week!

 
If you like the outcome please subscribe to our Youtube Channel for more DIY Videos and follow us on Facebook and  Pinterest.
Need help with an upcoming project? Be sure to send us a project request!
"Remember When Every Penny Counts, Count on MissPlanIt"