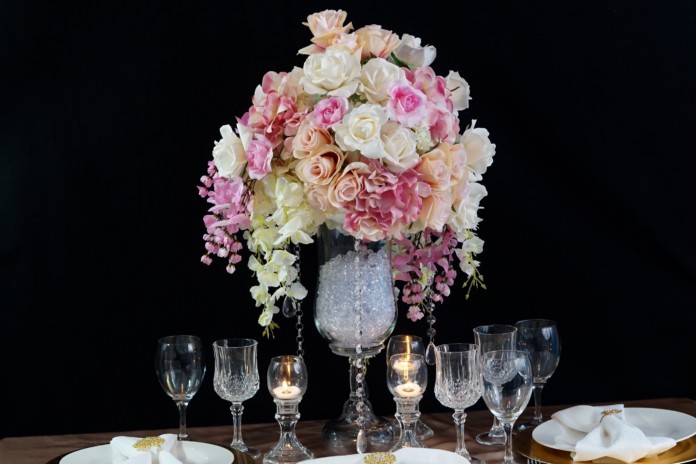 Go big or go home! This is the typical thing you will hear those who are from Texas say, myself included! Well, although you may not be from Texas, if you are planning a Glam Wedding, you are definitely aiming towards the perfect combination of dramatic decor, romantic details and ultimate wow factor features. With this style of wedding, you are not only choosing to "Go big" but you are also leaving a lasting impact on your guests for years to come. If you think Glam Wedding Style fits your personality, you don't want to miss this week's fabulous DIY glam wedding centerpiece!
BUT WAIT!
Before we get started I want to share an awesome tip on how you can earn cash back with your online purchases for all the items you will need to complete this project!
As our saying goes "When Every Penny Counts, Count on Miss PlanIt." We love to save money and get great deals. Prior to us purchasing anything online, we check out Ebates, find the store, click the current deal for that store and complete our purchase.
If you have never used Ebates, you are MISSING OUT. So for this project, you would go to Ebates.com, sign up, and then type in the store you plan to purchase from.
When completing a purchase through Ebates you earn cash back that you can have mailed to you or sent via PayPal. Be sure to check it out! Click here to sign up for Ebates, and RIGHT NOW when you sign up, you will receive a $10 cash welcome bonus through my link when you spend $25.00!
You were already going to complete your purchase online, so why not get some cash back on things you already planned to purchase!
Let's Get Started: Click our affiliate links below to purchase the supplies needed for this project: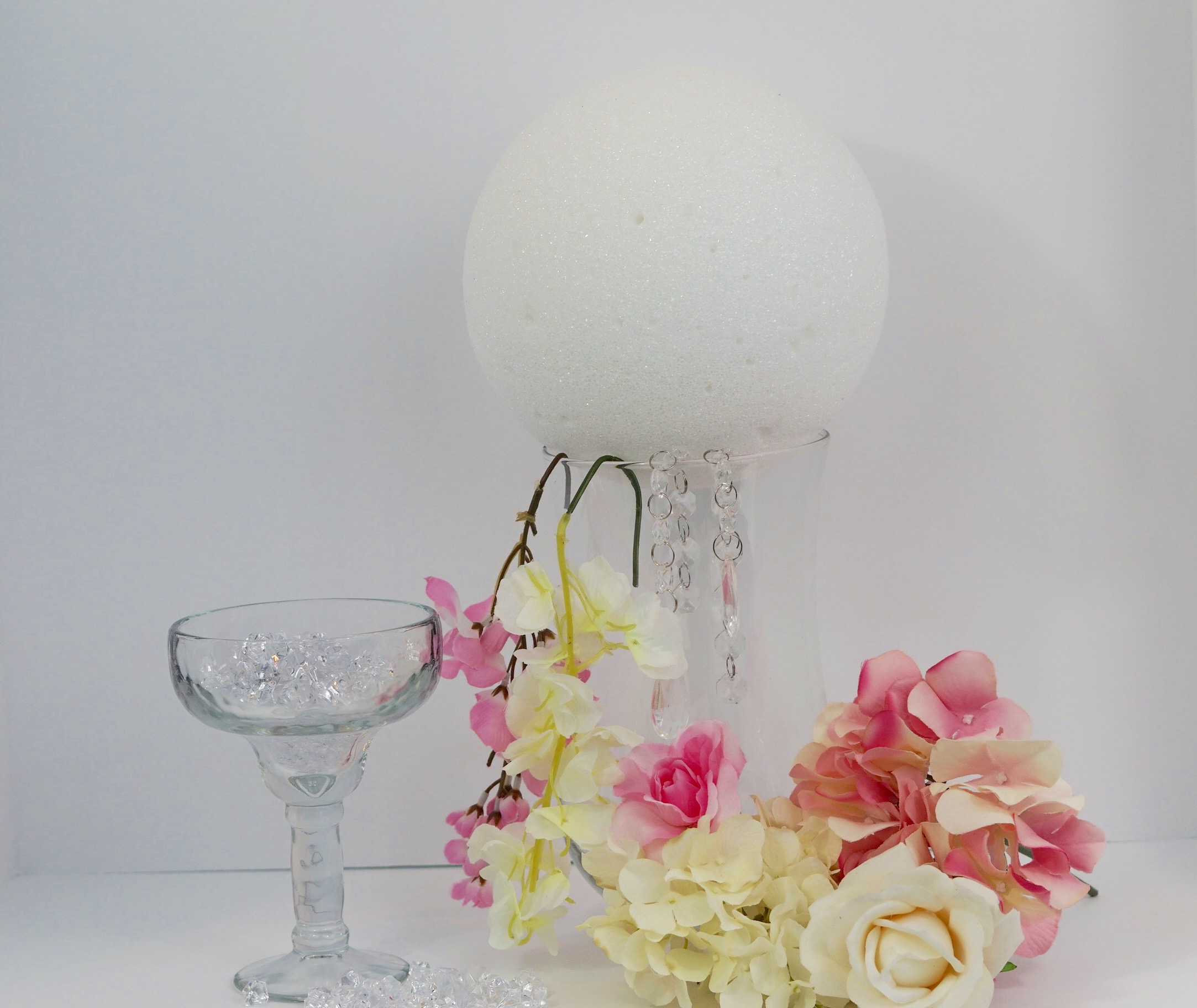 If you prefer written instructions, please continue reading.
How to Make Glam Wedding Centerpieces
STEP 1:
To make a heightened glam vase, first take your margarita glass and flip it upside down. Then apply E6000 to your margarita glass. Next, attach your 9 inch hurricane vase to your margarita glass. Lastly, add 2 bags of crystal dazzlers to your vase.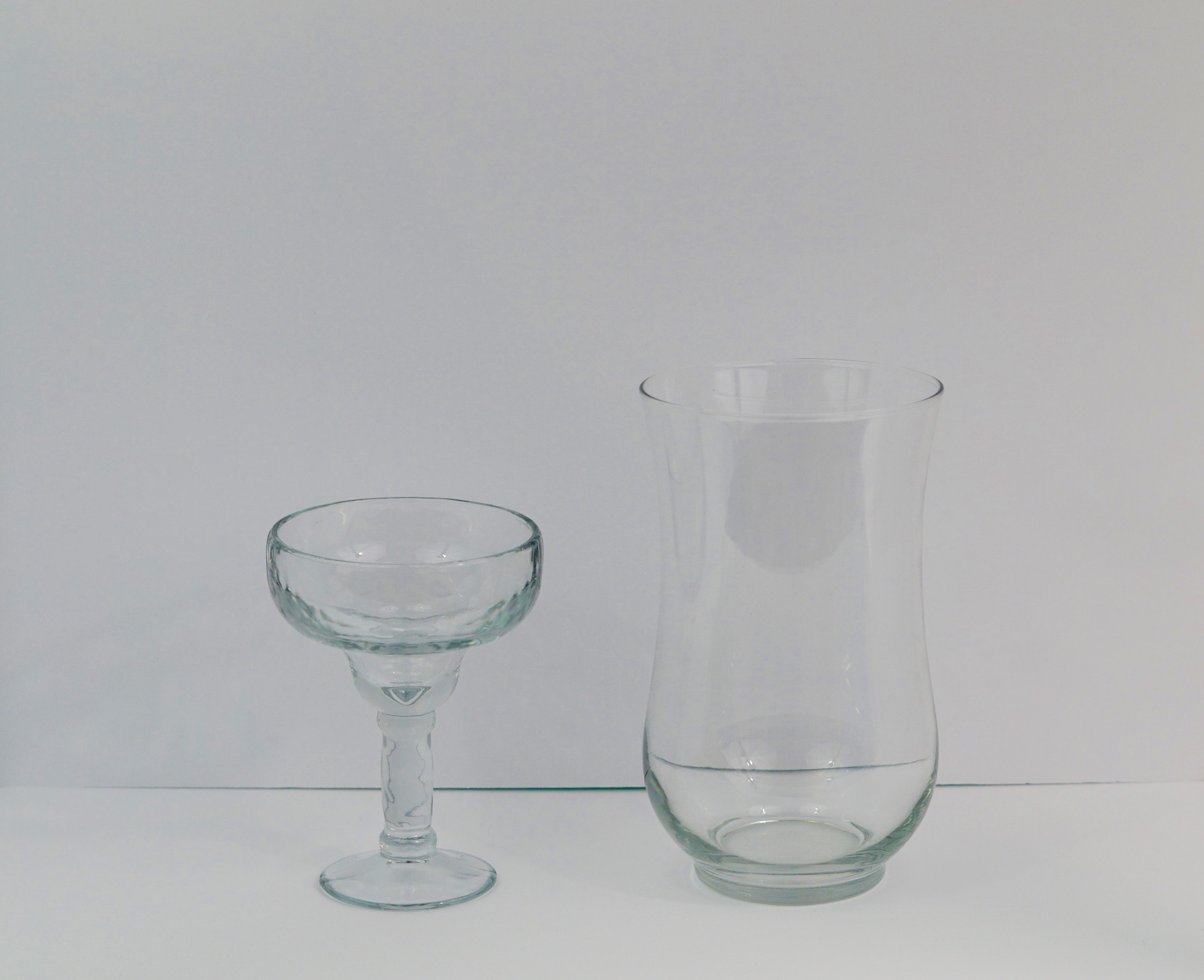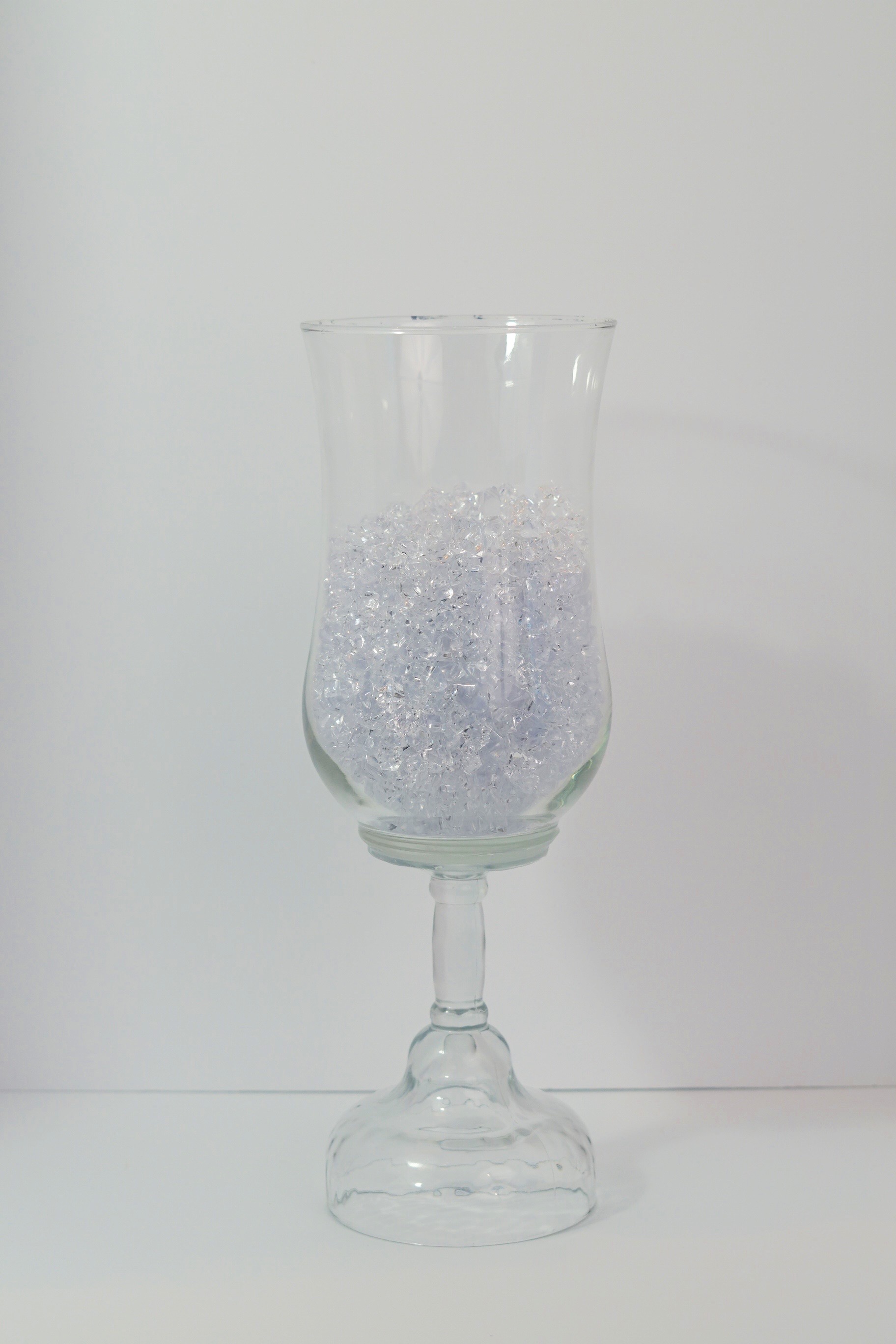 Attach Your Foam Ball and Add Your Crystal Garland Strands
STEP 2:
The next step is to attach your 8 inch foam ball to the rim of your vase using hot glue. Now attach crystal garlands to your foam ball using floral pins. One of your crystal garland strands will be 16-18 inches long, two of them at 12 inches long and two at 6 inches long.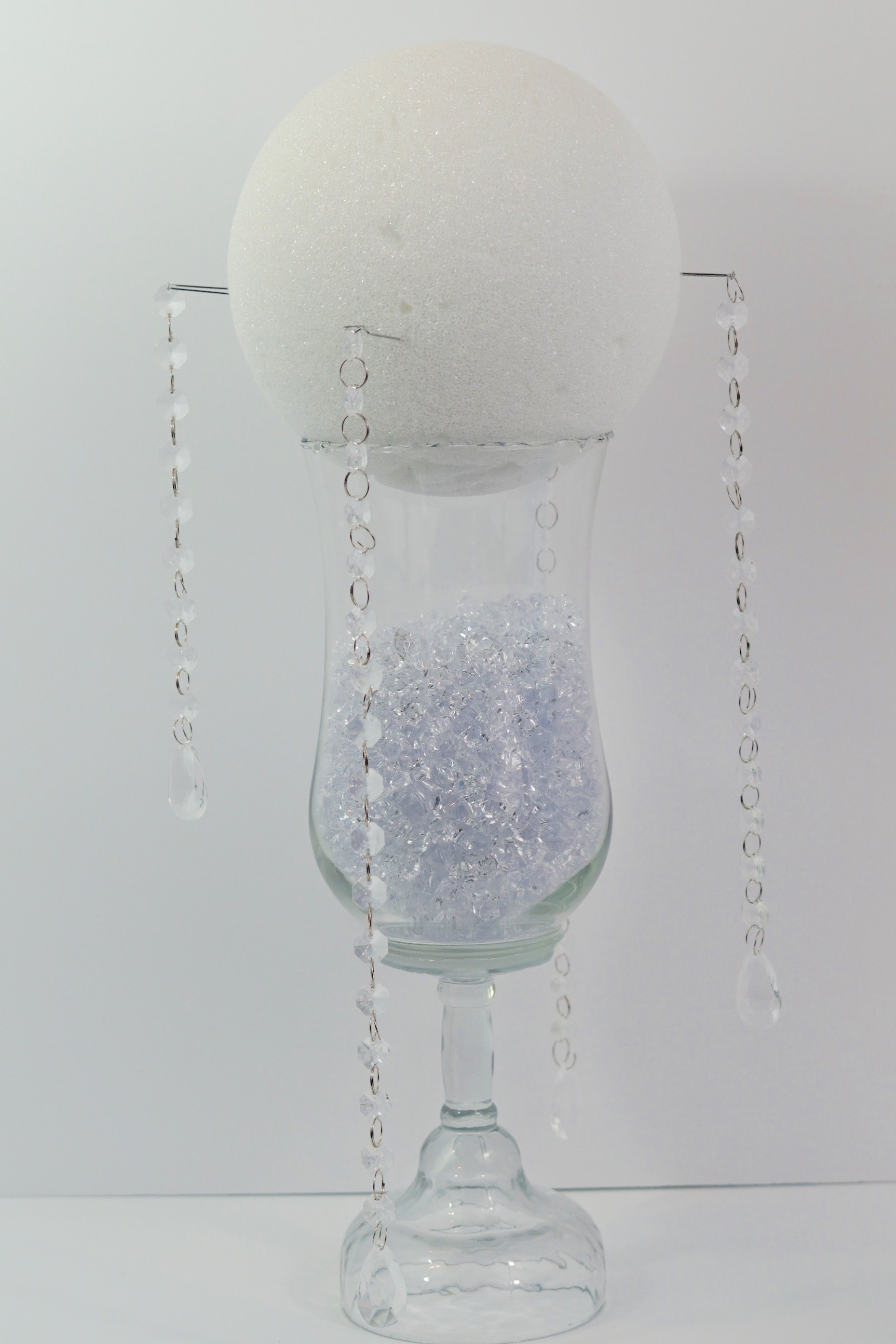 Decorate Your Foam Ball with Flowers
STEP 3:
You will attach your flowers to your foam ball in the following order: Attach 8-12 cream hydrangea heads and 6-8 Pink hydrangea heads.
Now attach your wisteria stem bushels. When attaching your 3 cream and 3 pink wisteria stem bushels, be sure you drape the stems to bring in that glam effect.
Lastly, add your 12-16 cream roses and fill in the remaining empty spaces with pink roses.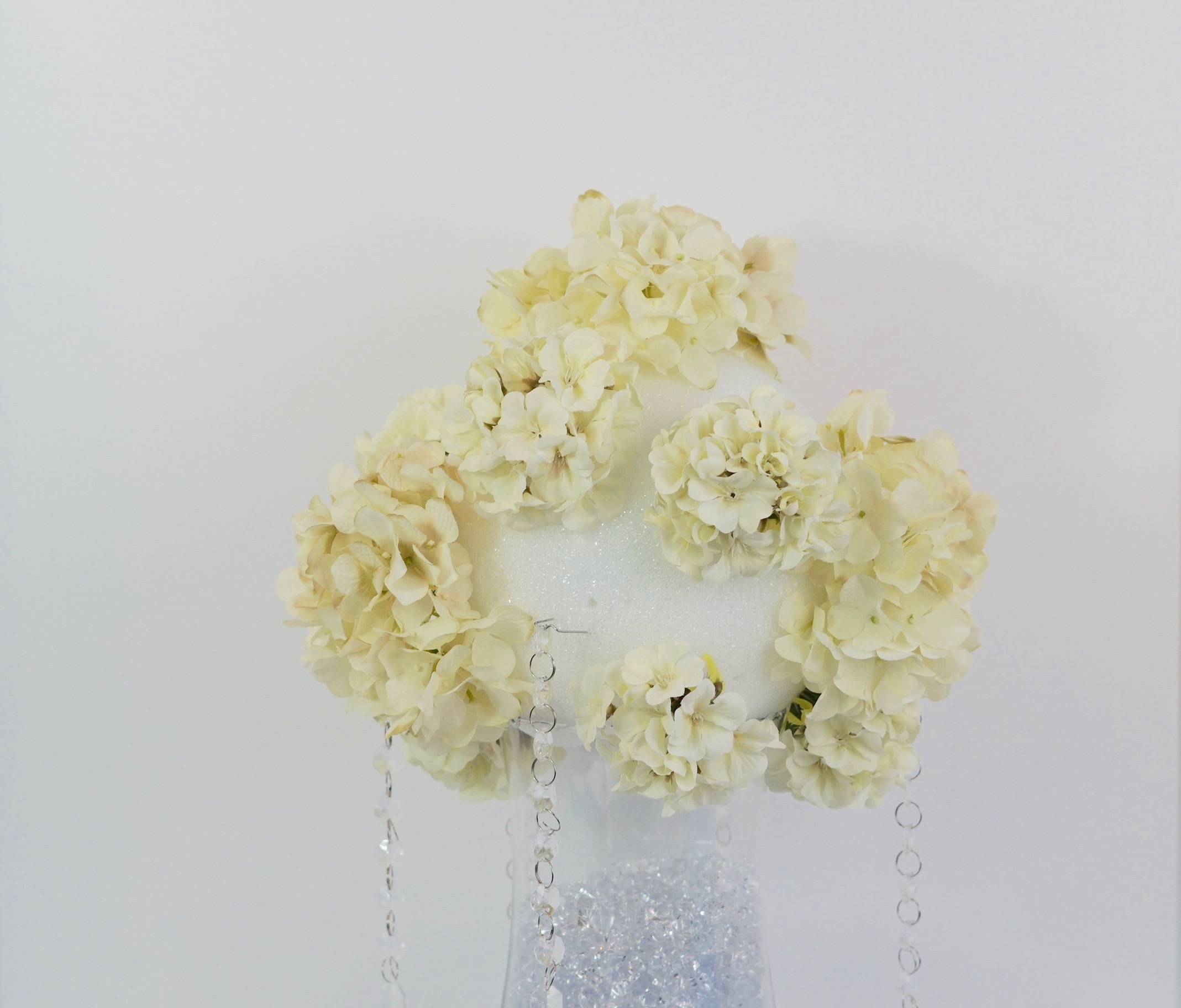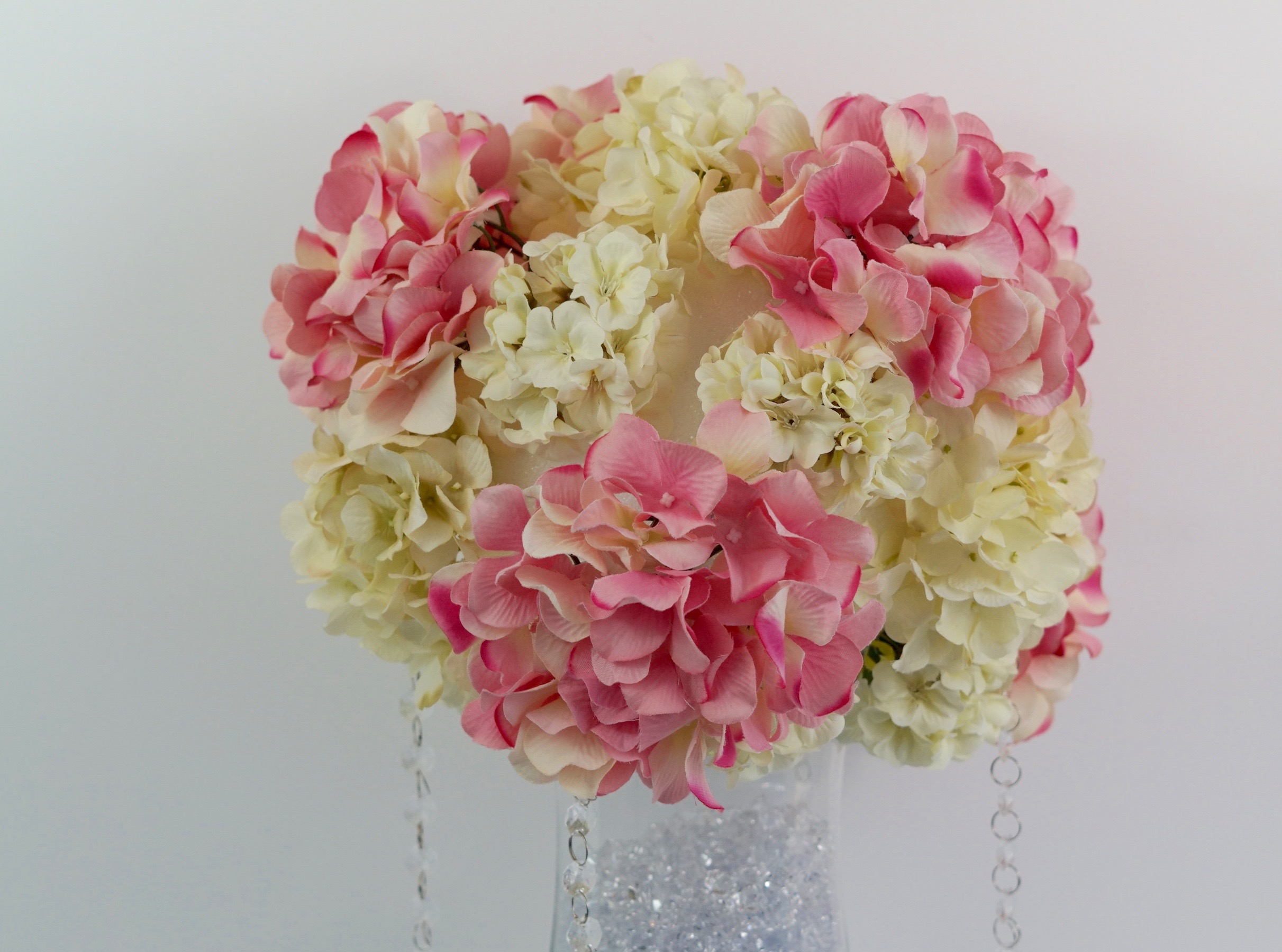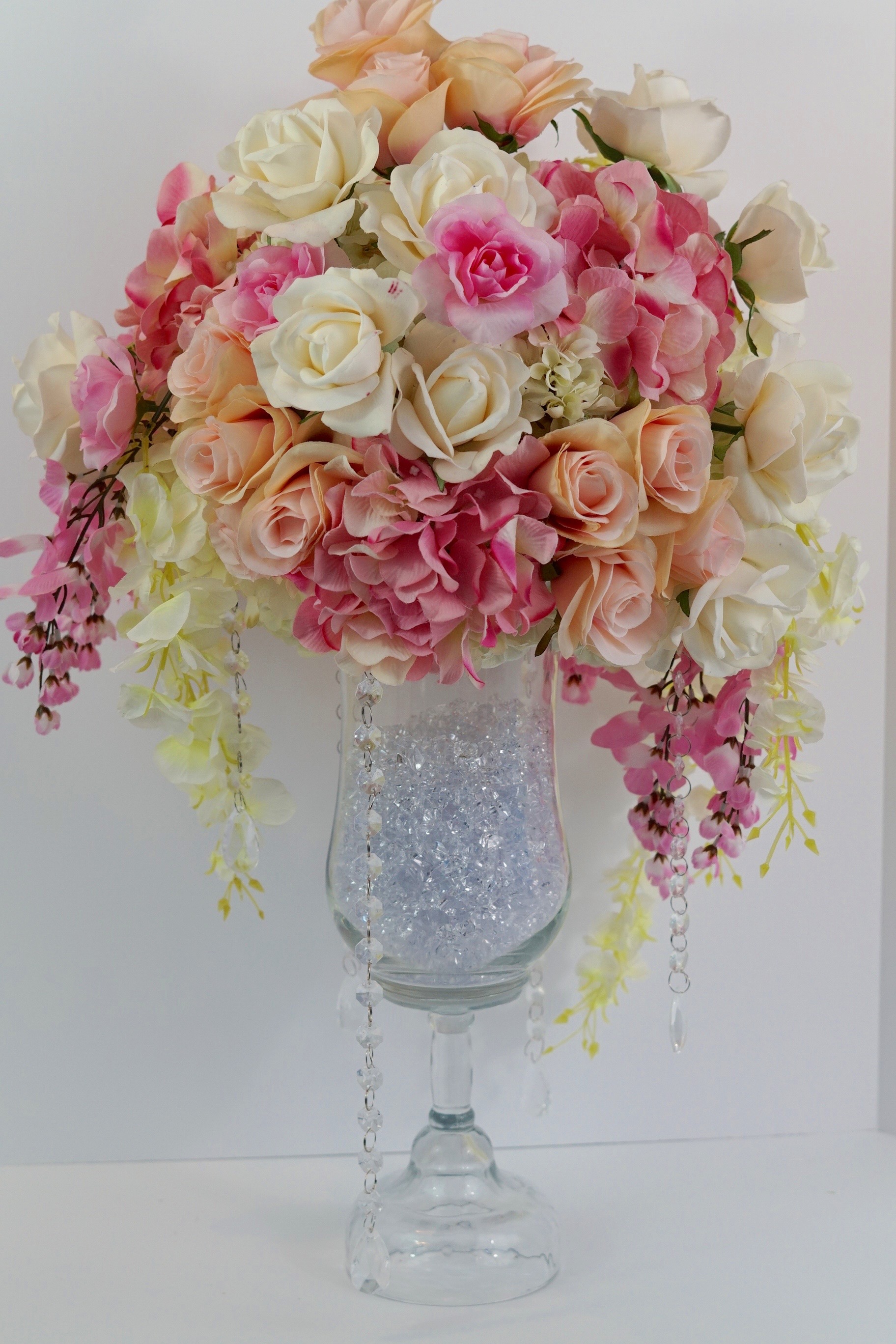 THE FINAL STEP:
Set the table!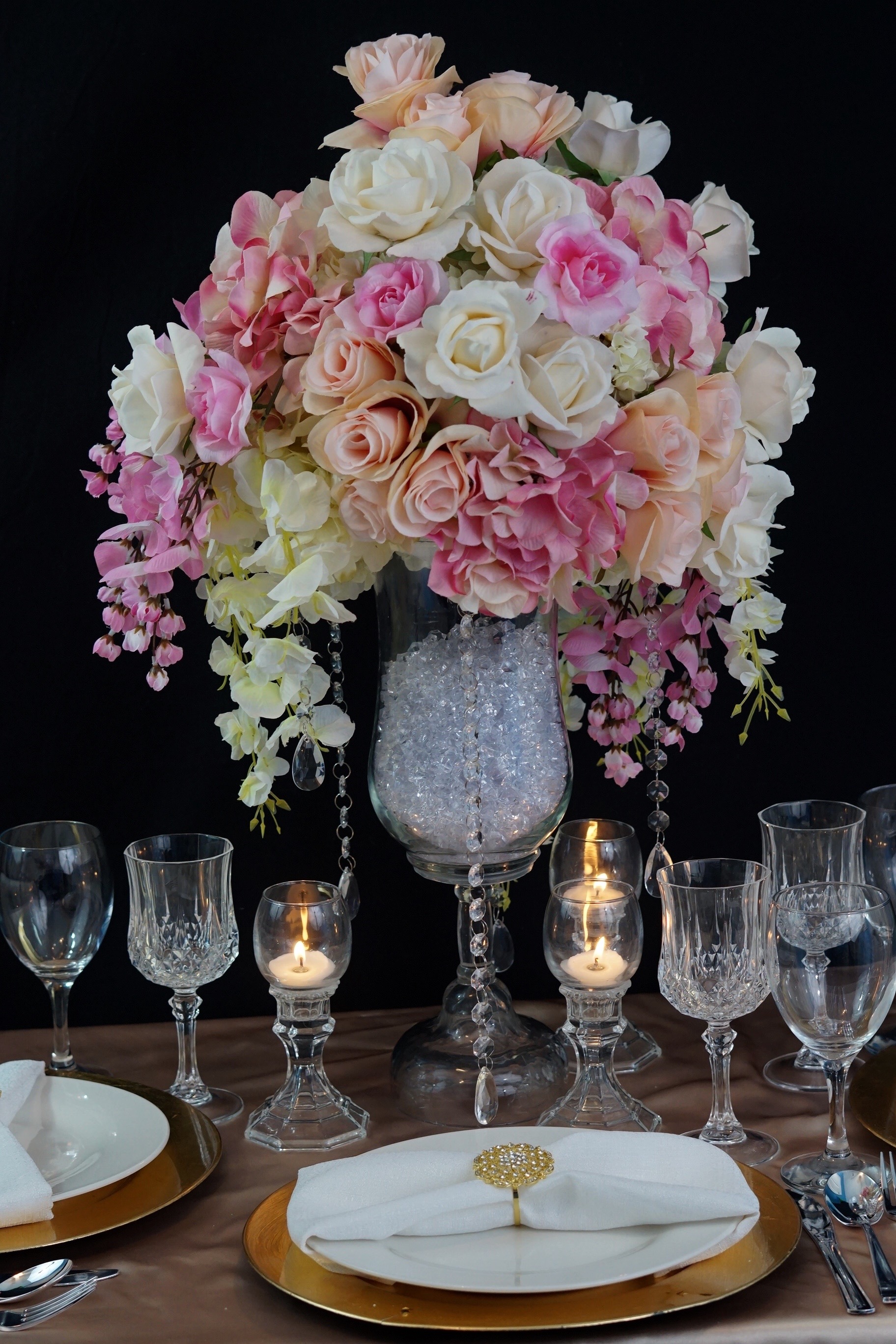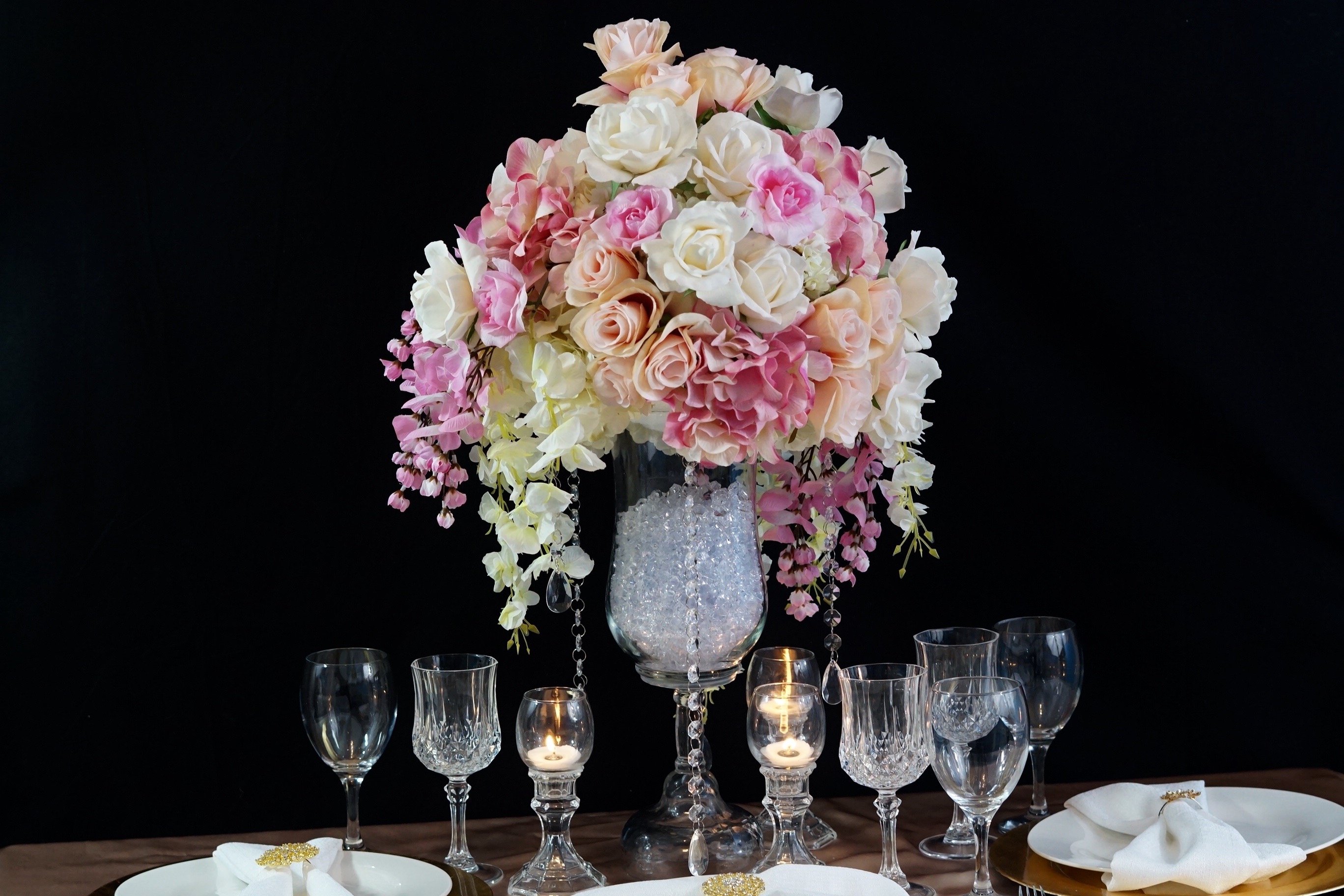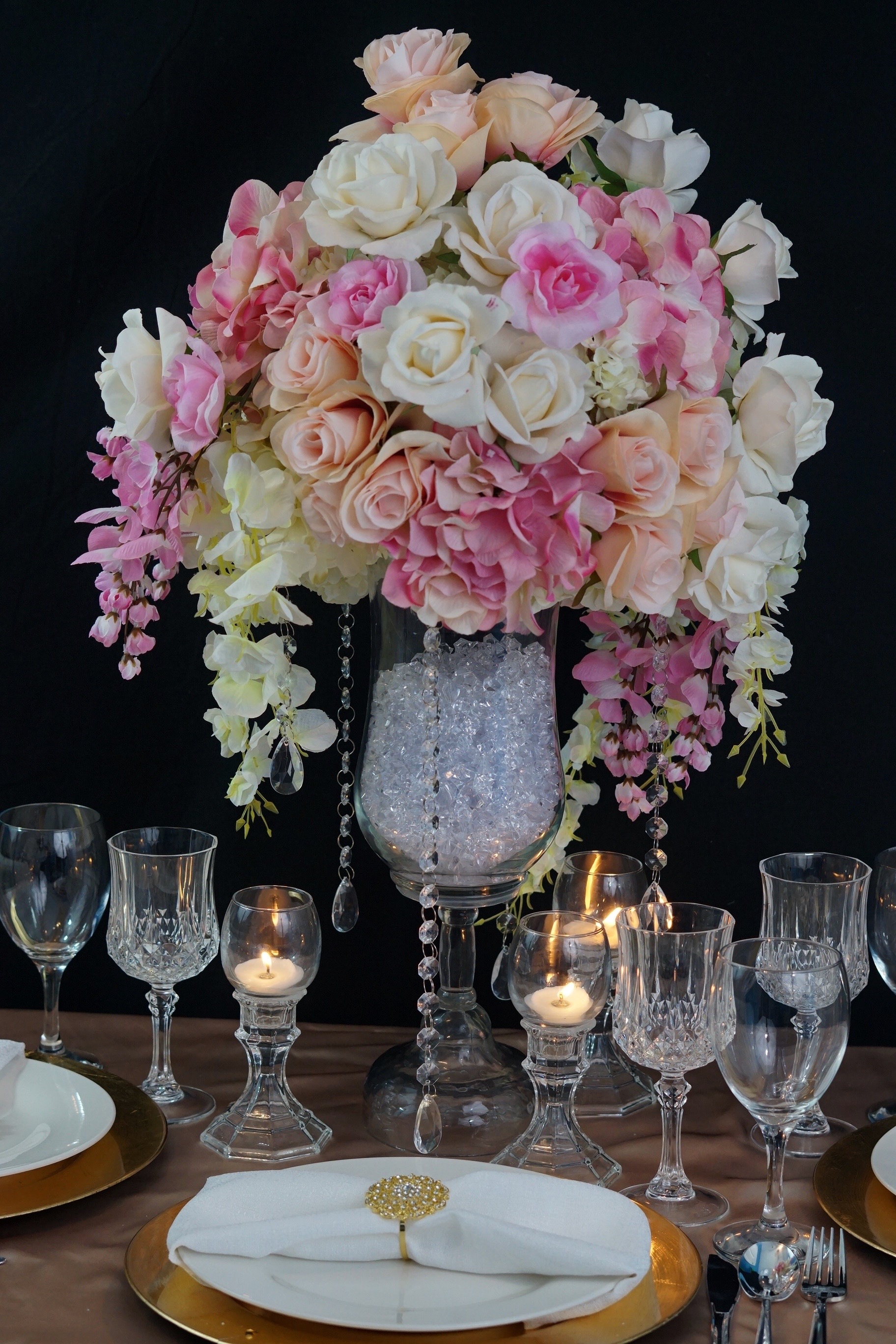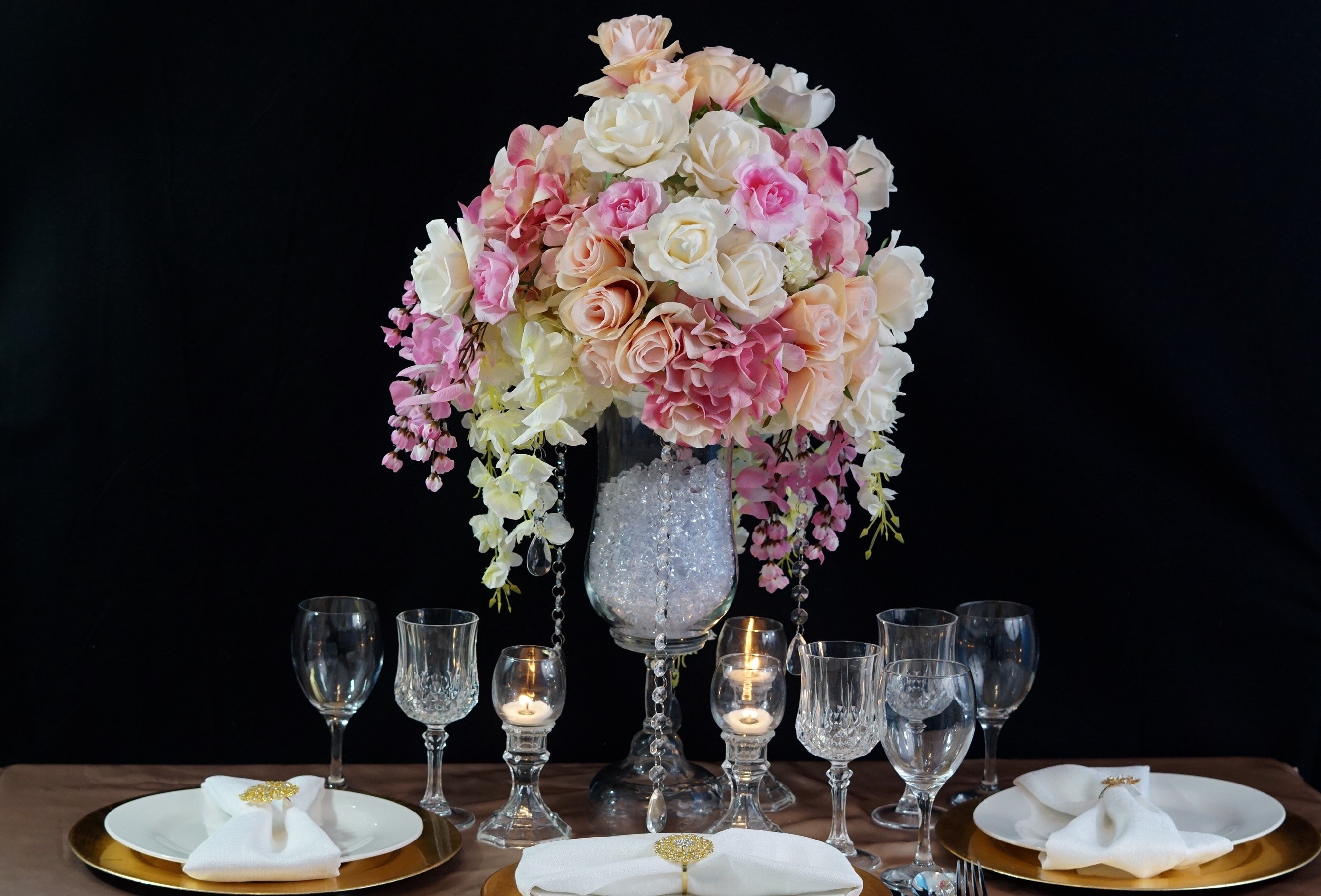 I absolutely love how this beautiful glam wedding centerpiece turned out. Thank you again Mandy for allowing us to be apart of your special day!
If you like the outcome please subscribe to our Youtube Channel for more DIY Videos and follow us on Facebook and  Pinterest. Also if you need help with an upcoming project be sure to send us a project request! "Remember When Every Penny Counts, Count on MissPlanIt"