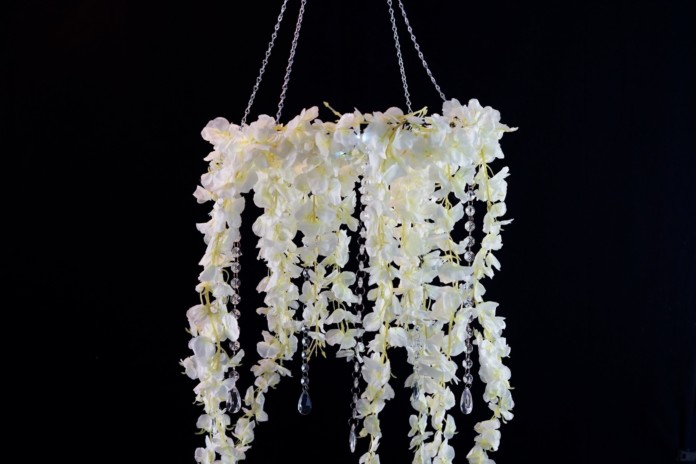 Chandeliers have a way of captivating other's attention. That is exactly what we plan to do this week with this Beautiful Hanging Floral Chandelier. With simple embellishments and unique features, this week's project is one you will be eager to recreate!
BUT WAIT!
Before we get started I want to share an awesome tip on how you can earn cash back with your online purchases for all the items you will need to complete this project!
As our saying goes "When Every Penny Counts, Count on Miss PlanIt." We love to save money and get great deals. Prior to us purchasing anything online, we check out Ebates, find the store, click the current deal for that store and complete our purchase.
If you have never used Ebates, you are MISSING OUT. So for this project, you would go to Ebates.com, sign up, and then type in the store you plan to purchase from.
When completing a purchase through Ebates you earn cash back that you can have mailed to you or sent via PayPal. Be sure to check it out! Click here to sign up for Ebates, and RIGHT NOW when you sign up, you will receive a $10 cash welcome bonus when you spend $25.00!
You were already going to complete your purchase online, so why not get some cash back on things you already planned to purchase!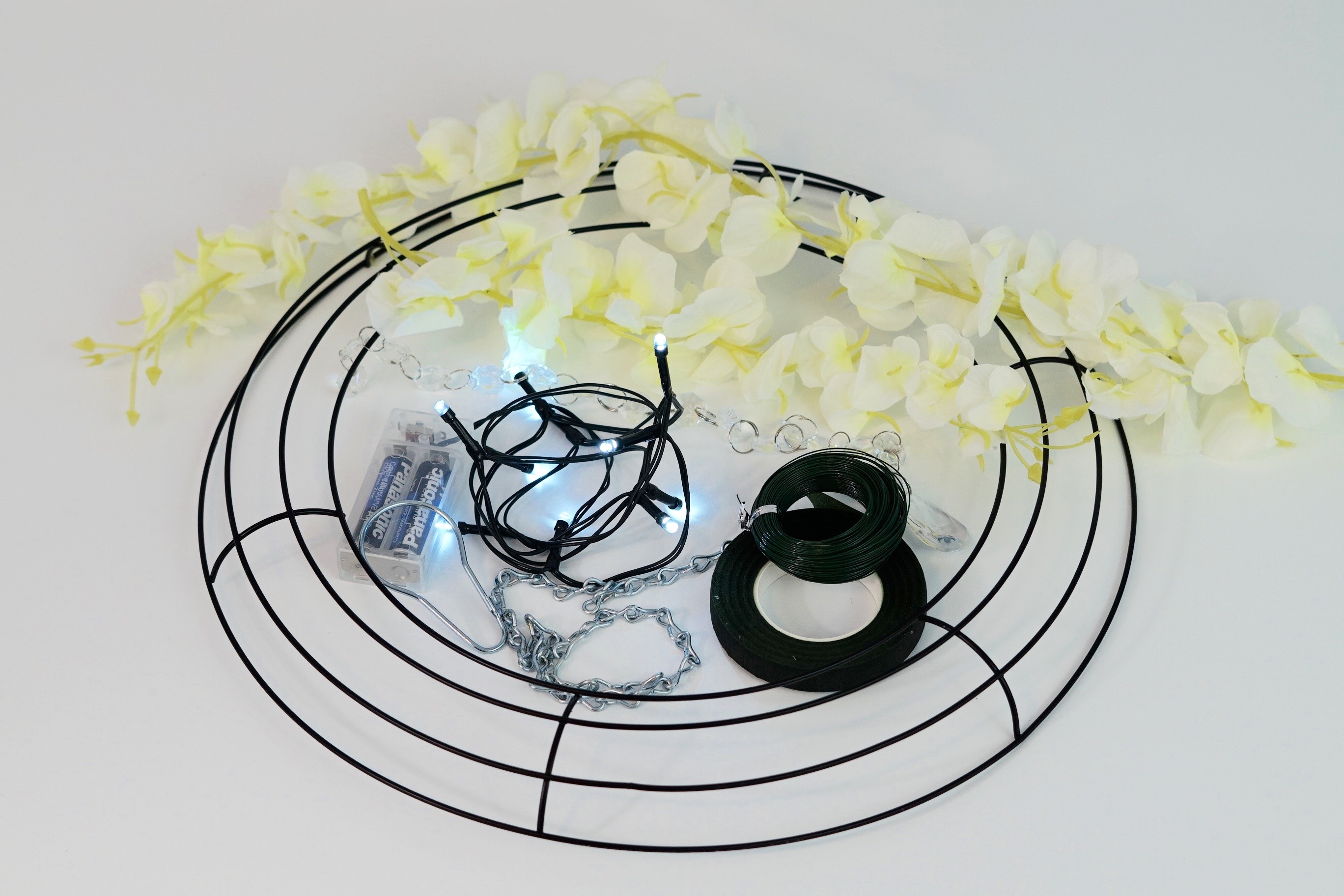 If you prefer written instructions, please continue reading.
How To Make a Hanging Floral Chandelier
Directions:
STEP 1: The first thing you are going to do is take your #16 single jack chain and attach it to your wire wreath. You do this by opening one end of your link and tighten it on your wire wreath with your wire cutters.
I made each chain about 24 inches long.The length of your chains will depend on your ceiling height. After all 4 chains are connected, you will then link all the chains in your shower hook.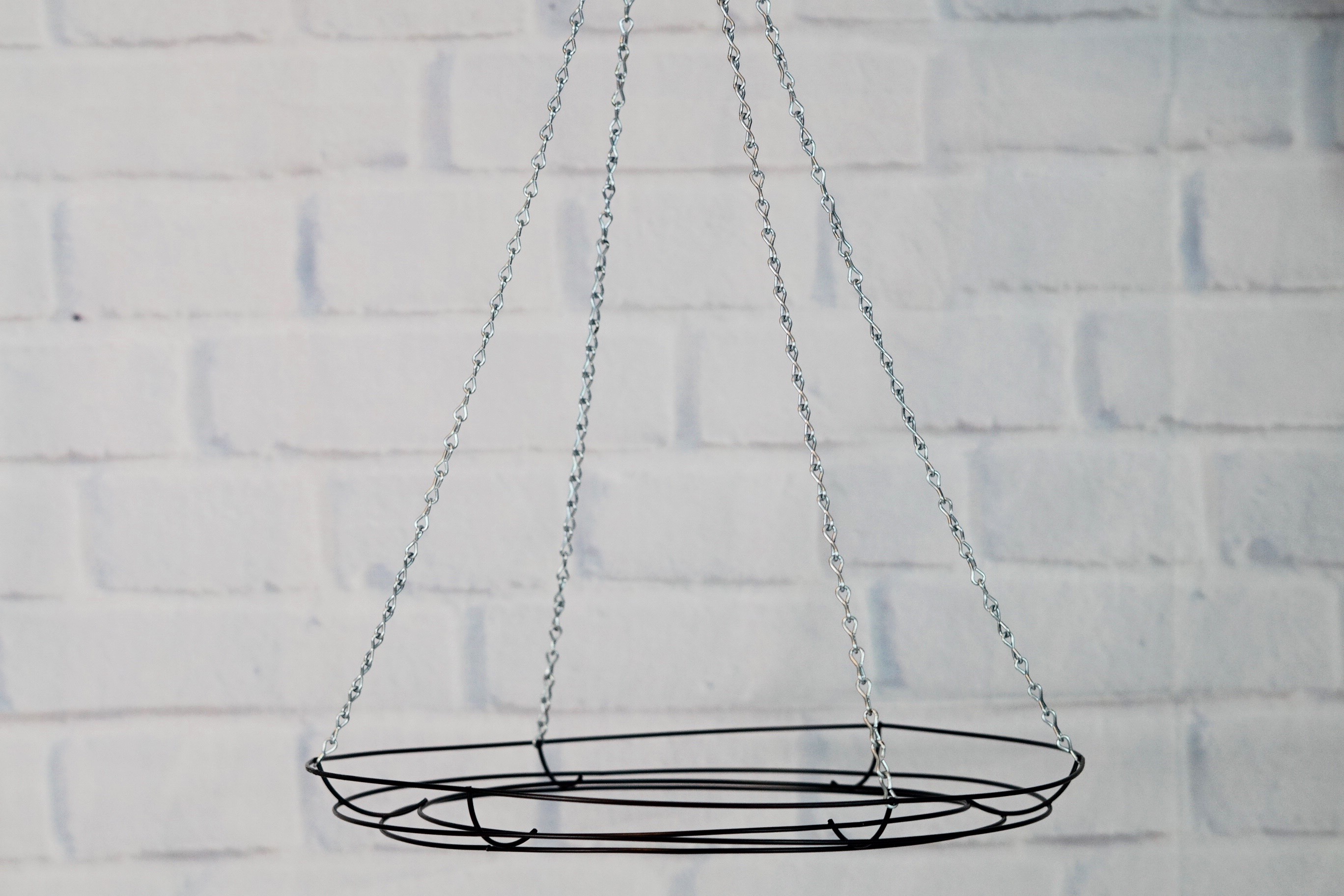 Attach your string lights to your wreath
STEP 2: Next attach 2 battery operated string lights to your wire wreath using green floral tape. I like using floral tape because it blends in very nicely with the wreath.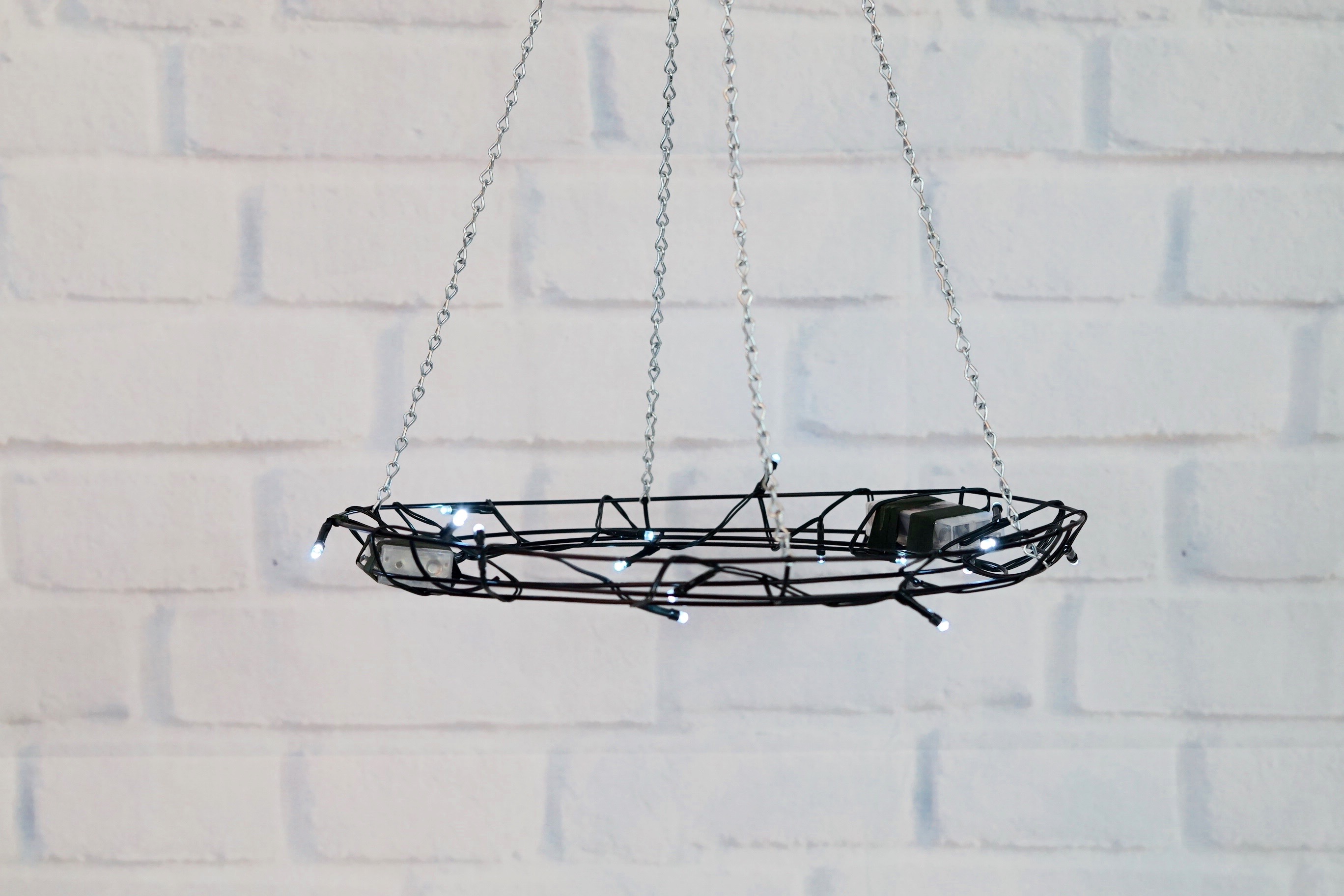 Attach Wisteria Stems to the Wire Wreath
STEP 3: Now it's time for the fun part. Let's attach our wisteria stems. For the outer rim, attach your wisteria stems that are about 20 inches long using floral wire, just twist tie them on. To create a little bit more dimension, attach 6 inch long wisteria vines to the inner most part of your wreath using floral wire. Be sure each stem is halfway between your long stems. Repeat this pattern all the way around.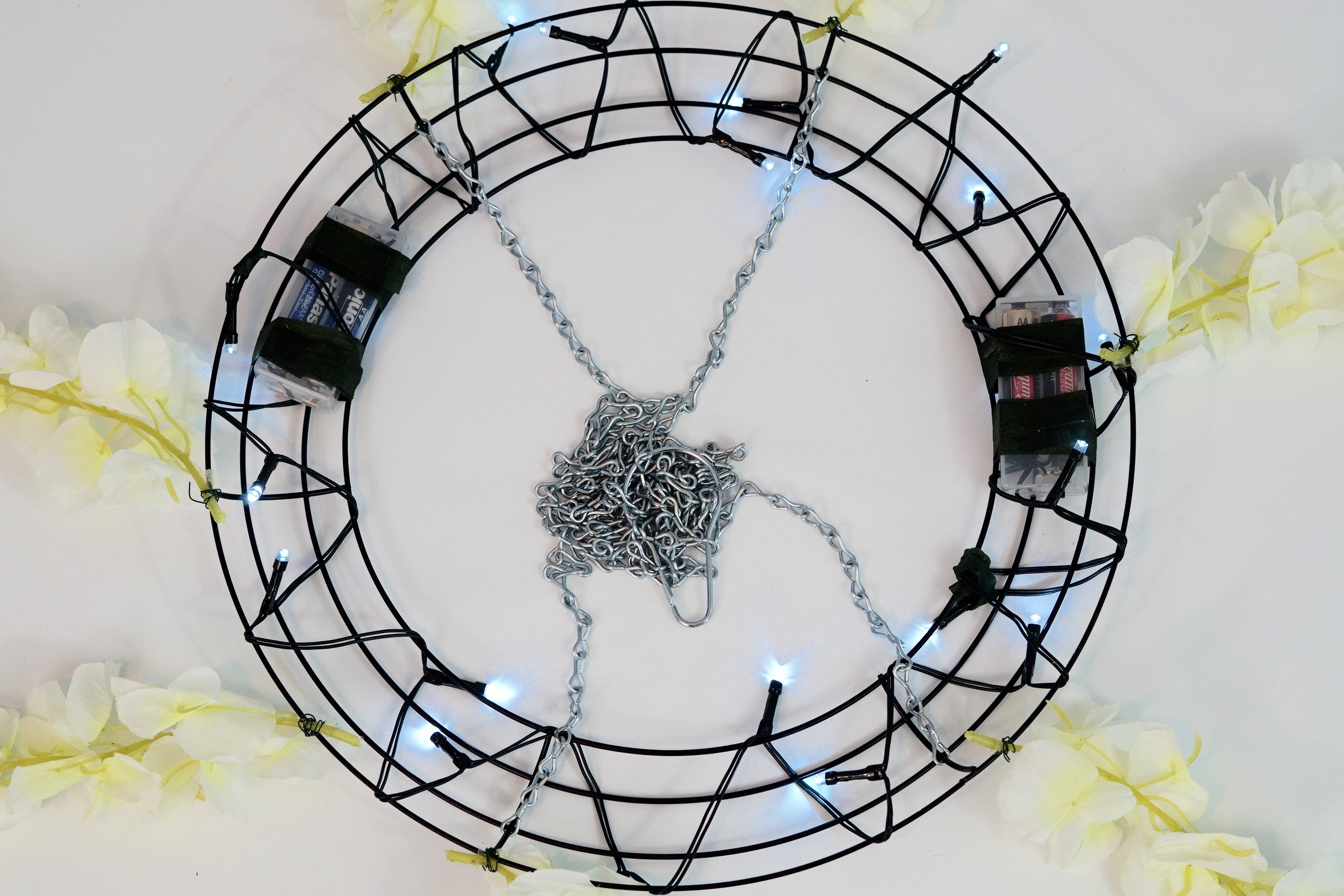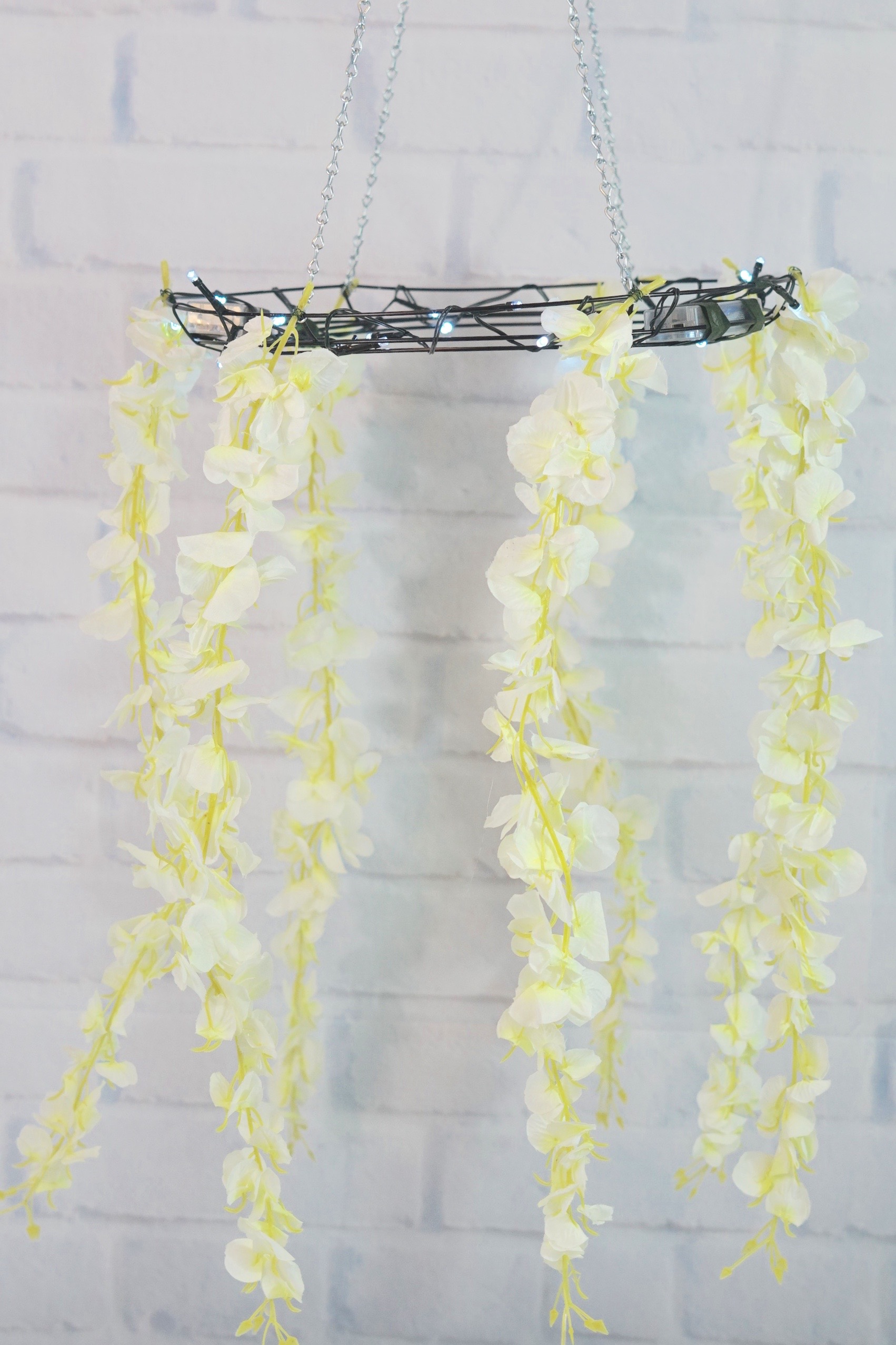 Cover the Underside of Your Wire Wreath with the Remaining Wisteria Stems
STEP 4: Attach your remaining wisteria stems to the underside of your wire wreath using floral wire.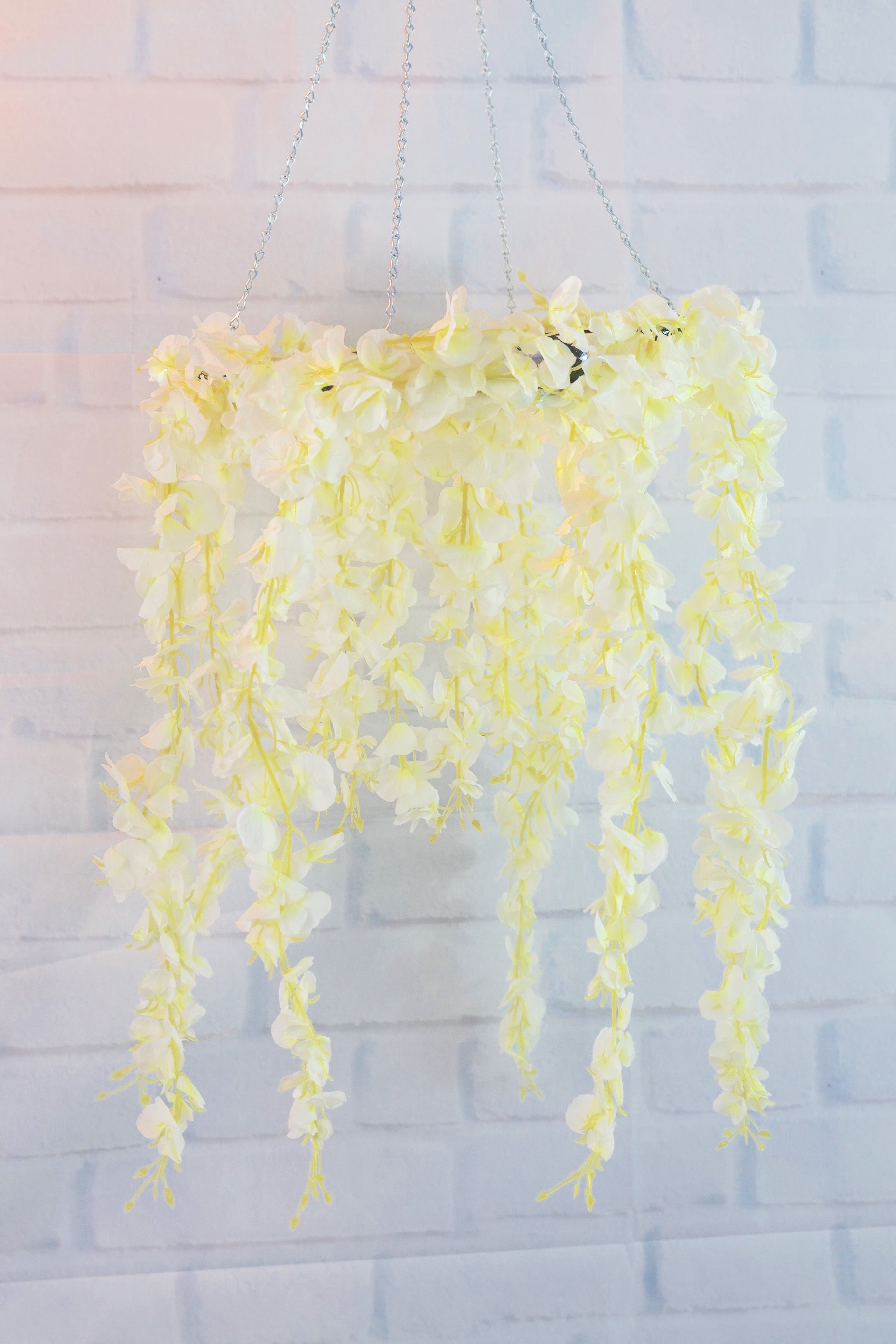 Embellish with Gem Garland
STEP 5: The final touch is to add gem garland. The length of the garland is completely up to you. I chose to have my gem garland at 18 inches long.
THE FINAL STEP!
STEP 6: Hang Your Chandelier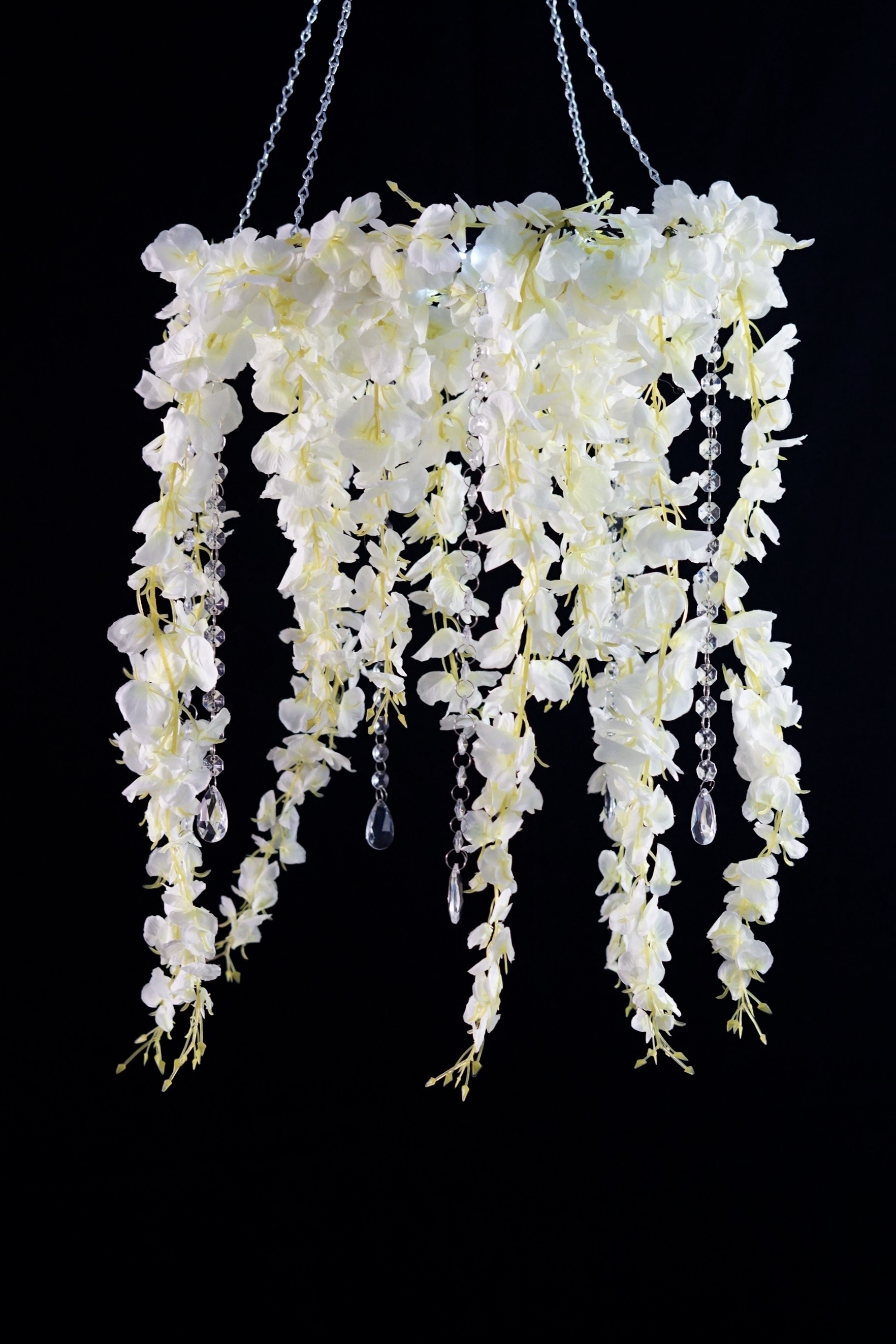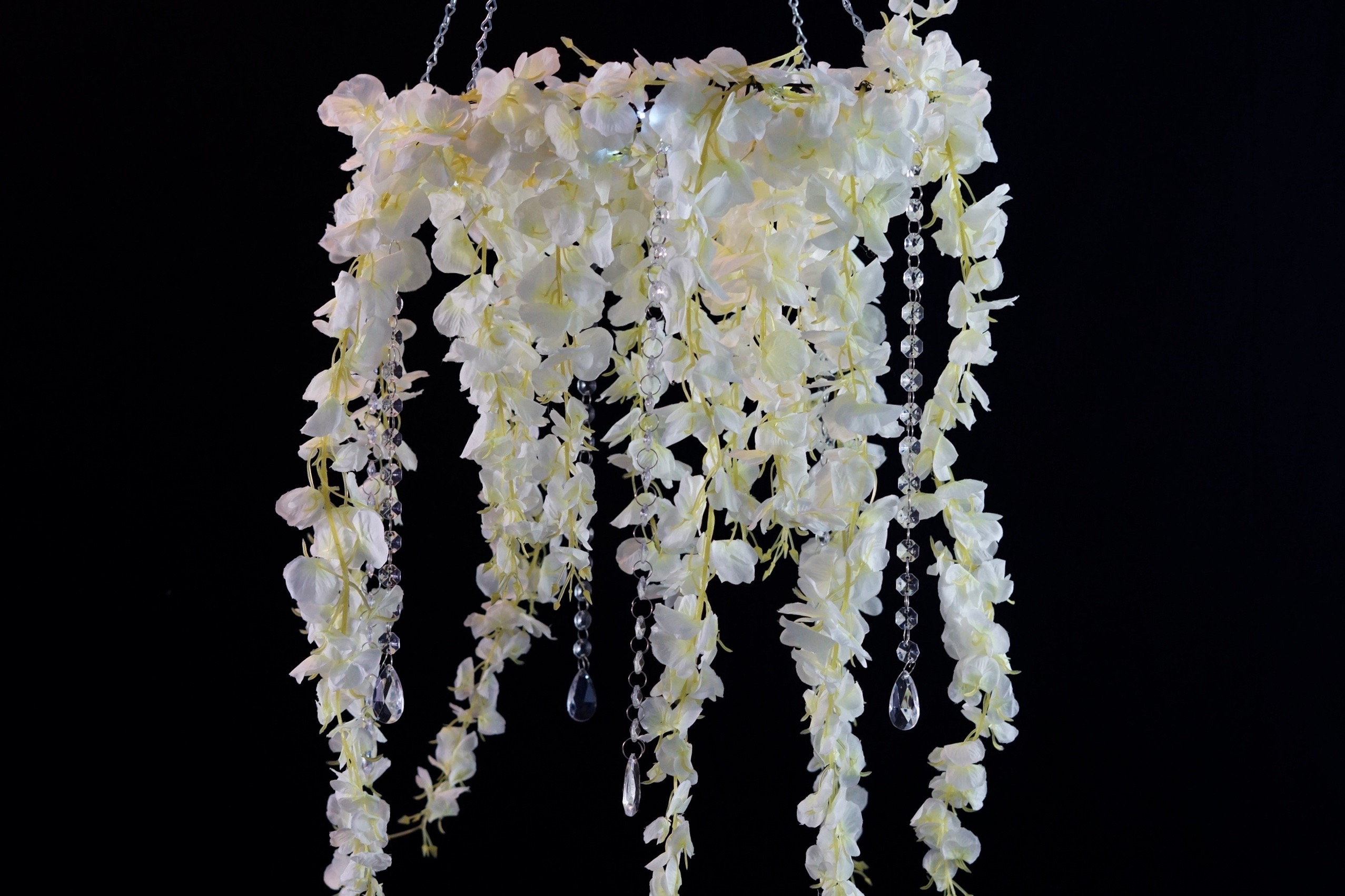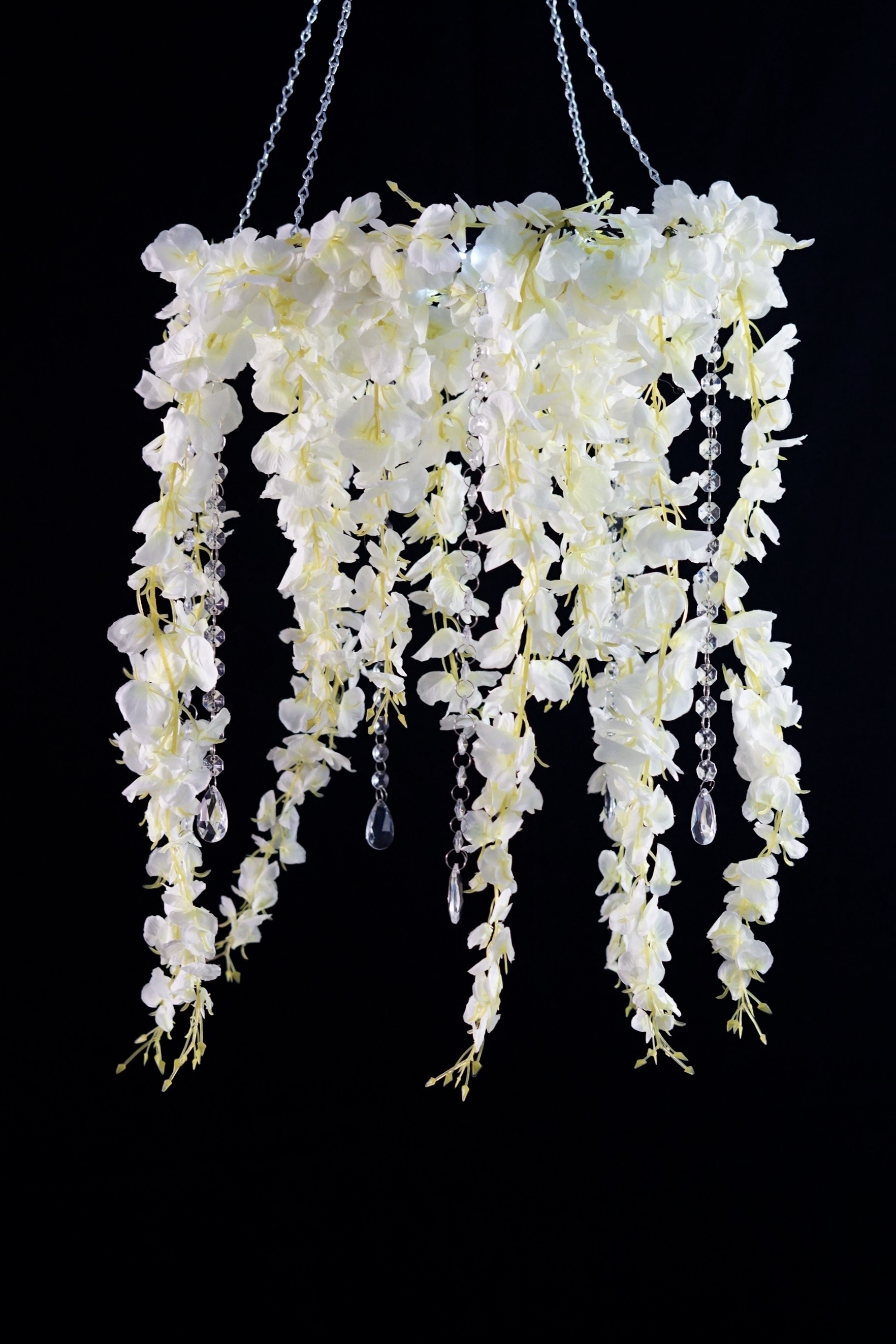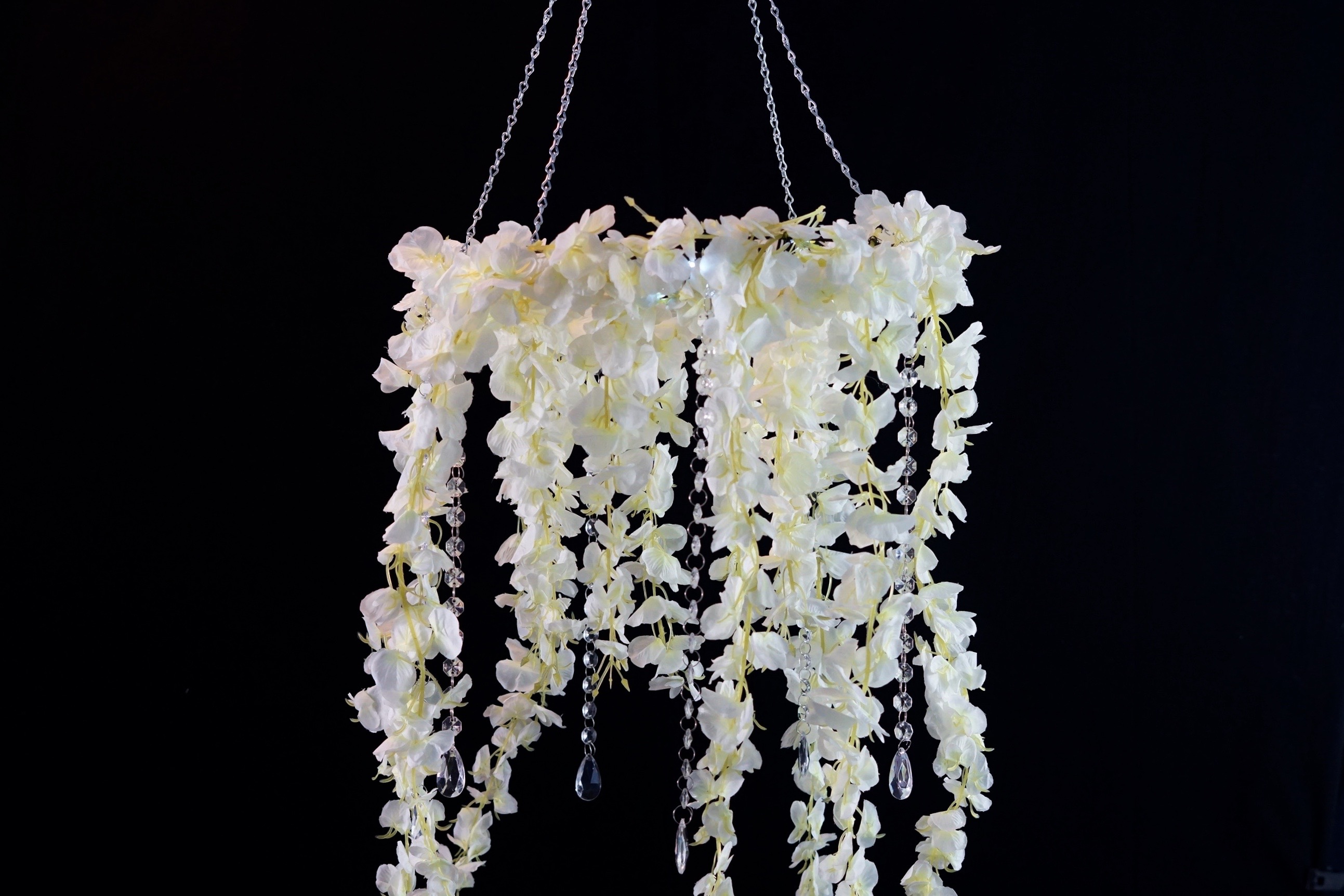 I absolutely love how this DIY Wedding Hanging Chandelier turned out! The outcome is amazing and will definitely add that extra special touch to any event!
If you like the outcome please subscribe to our Youtube Channel for more DIY Videos and follow us on Facebook and  Pinterest.
Need help with an upcoming project? Be sure to send us a project request!
"Remember When Every Penny Counts, Count on MissPlanIt"