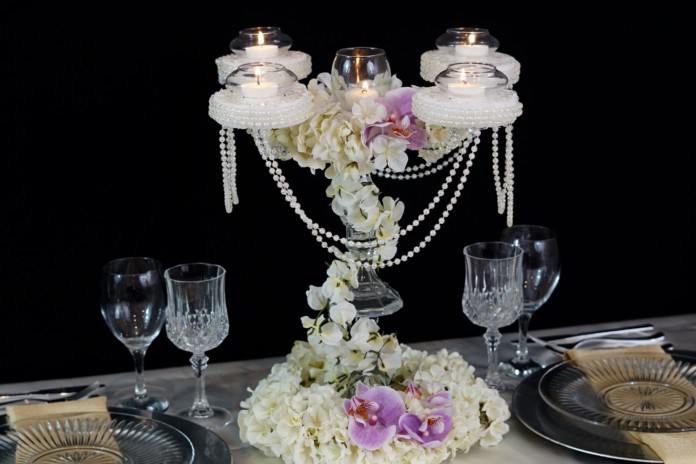 Accentuate your table decor with DIY Candelabra Wedding Centerpieces. This classic look includes beaded pearl trim, hydrangeas, and butterfly orchids. You may be thinking how in the world do you make your own candelabras? Well I am glad you asked because this week's tutorial gives you step by step instructions that will have you feeling like a pro. So gather all your supplies together and let's have fun putting together this stunning DIY Candelabra Wedding Centerpiece!
BUT WAIT!
Before we get started I want to share an awesome tip on how you can earn cash back with your online purchases for all the items you will need to complete this project!
As our saying goes "When Every Penny Counts, Count on Miss PlanIt." We love to save money and get great deals. Prior to us purchasing anything online, we check out Ebates, find the store, click the current deal for that store and complete our purchase.
If you have never used Ebates, you are MISSING OUT. So for this project, you would go to Ebates.com, sign up, and then type in the store you plan to purchase from.
When completing a purchase through Ebates you earn cash back that you can have mailed to you or sent via PayPal. Be sure to check it out! Click here to sign up for Ebates, and RIGHT NOW when you sign up, you will receive a $10 cash welcome bonus when you spend $25.00!
You were already going to complete your purchase online, so why not get some cash back on things you already planned to purchase!
Let's Get Started:
Click our affiliate links below to purchase the supplies needed for this project: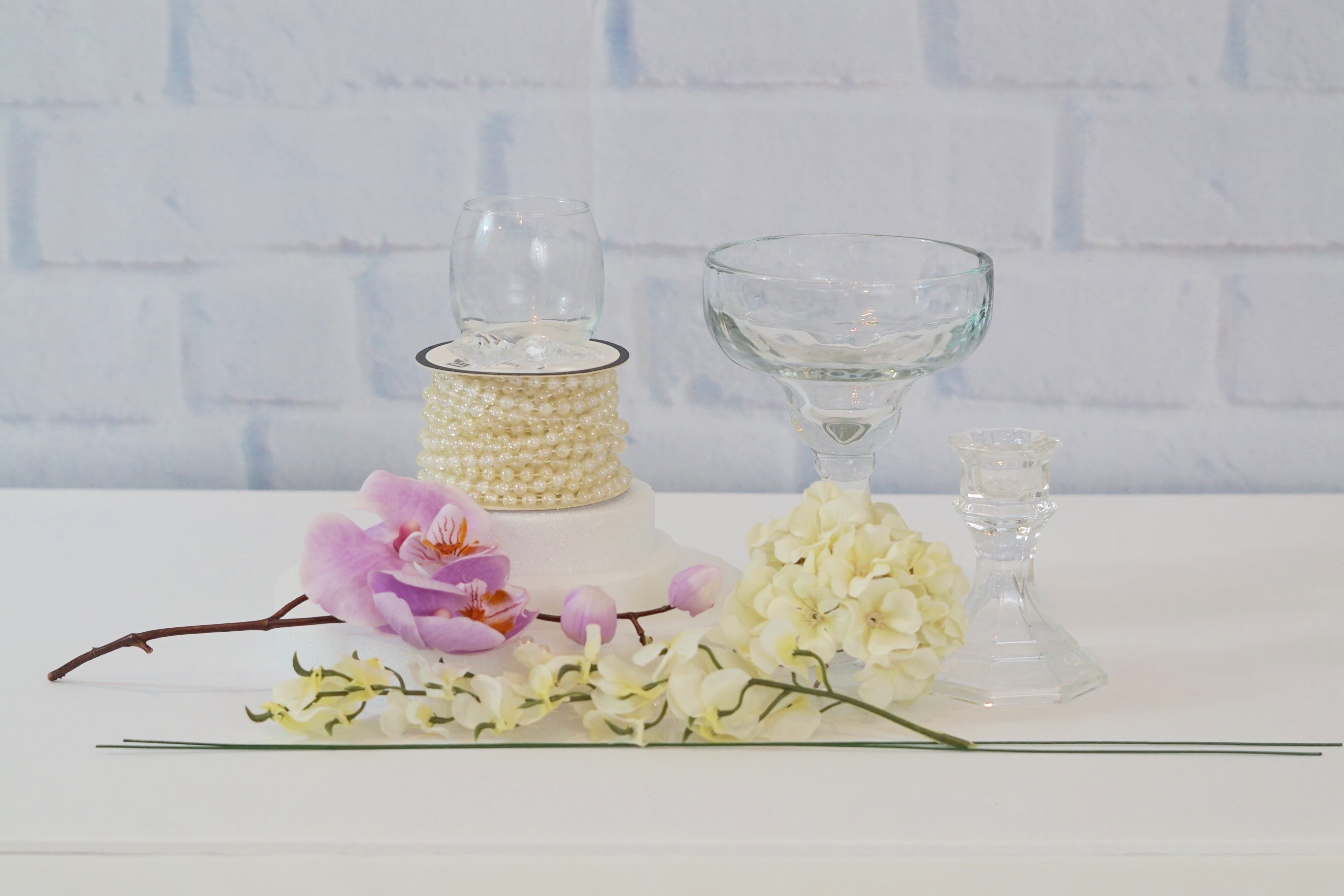 If you prefer written instructions, please continue reading.
How To Make a DIY Candelabra Centerpiece
Directions:
STEP 1:Take your margarita glass and flip it over onto your 6 inch foam disc. Trace the rim of your margarita glass on your disc with a sharpie marker and cut out the traced area with your foam cutter.
STEP 2: Next place your margarita glass in the center of your cut out. Adhere 2 of your tapered candleholders one on top of the other to your margarita glass using E6000.
Tip: Place a weight on top such as a book to keep your tapered candleholders in place and allow this to dry for 24 hours.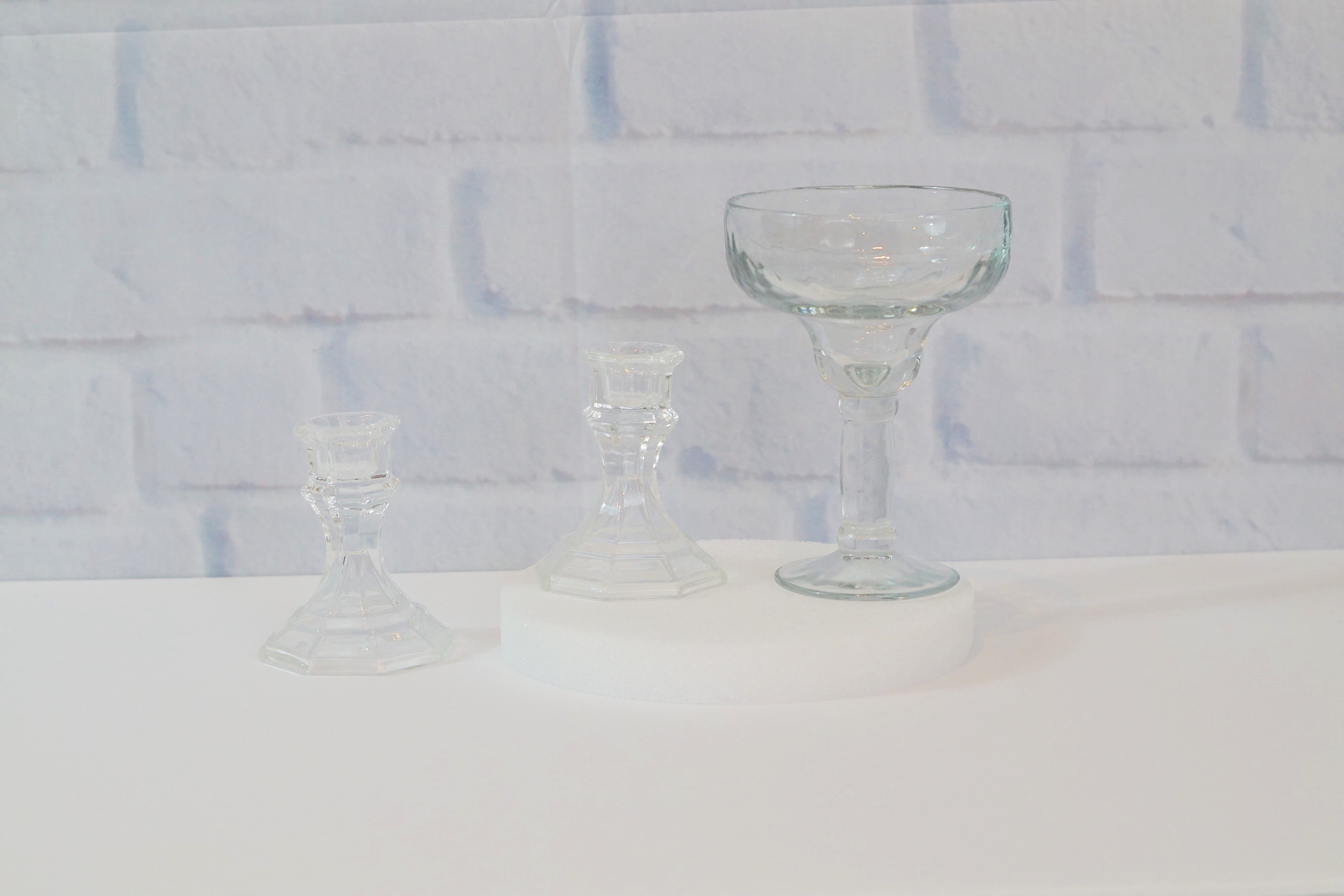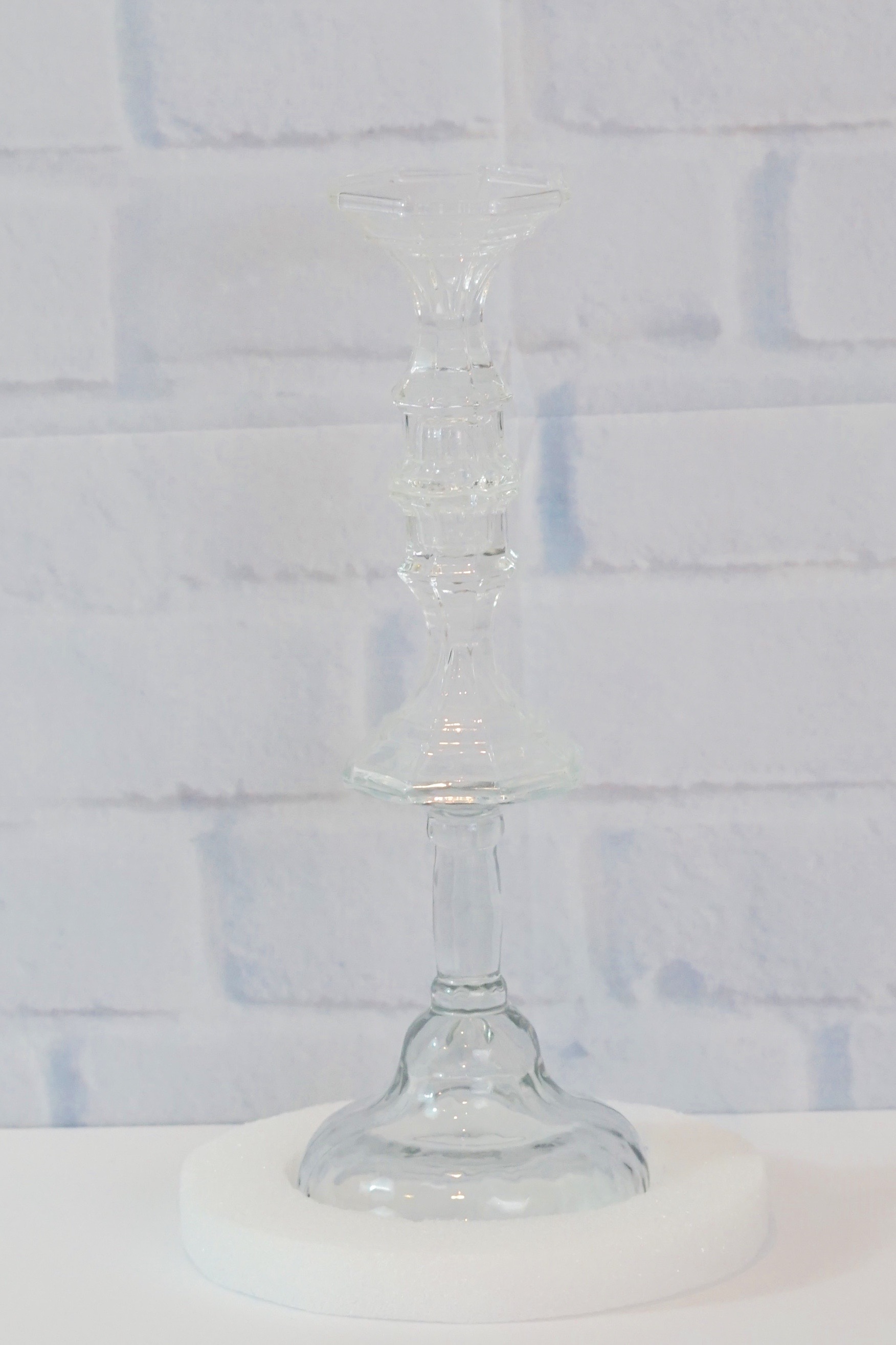 It's Time To Add Some Glitter
STEP 3: Apply mod podge liberally to the top and the bottom of your 4 inch foam discs. Then sprinkle glitter to cover the foam discs.
Use Floral Wire to Make the Arms for Your Candelabra
STEP 4: After your 4 inch foam discs have dried, you will repeat step 3 on your 4.8 inch foam disc. Next take a wooden skewer to poke a hole in the sides of the foam disc. Insert three of your 26 gauge floral wire to each side of your foam disc (north, south, east, and west).
Braid the wires until you get about an inch at the bottom. Now place your foam disc on your dried tapered candleholder using hot glue to adhere it.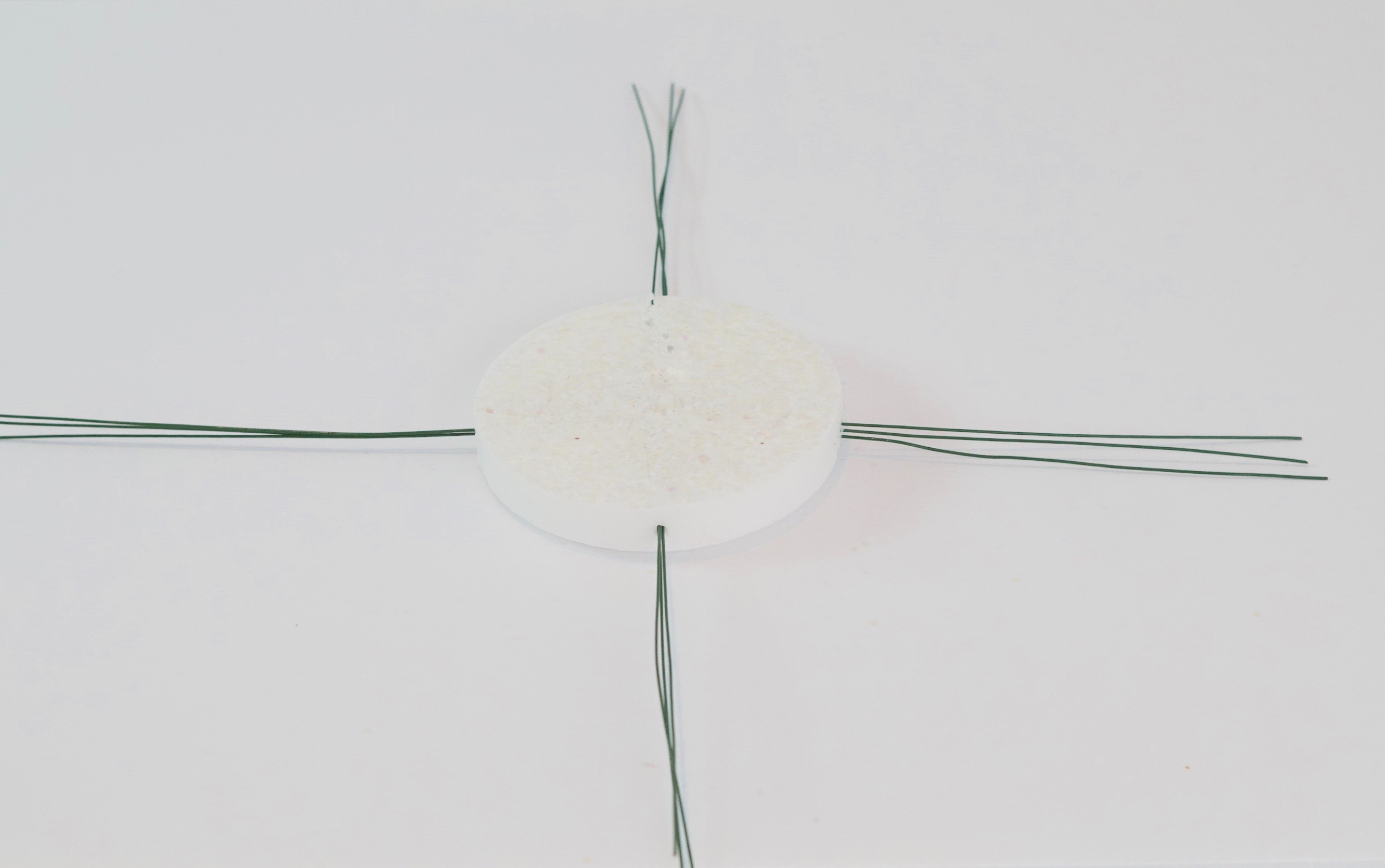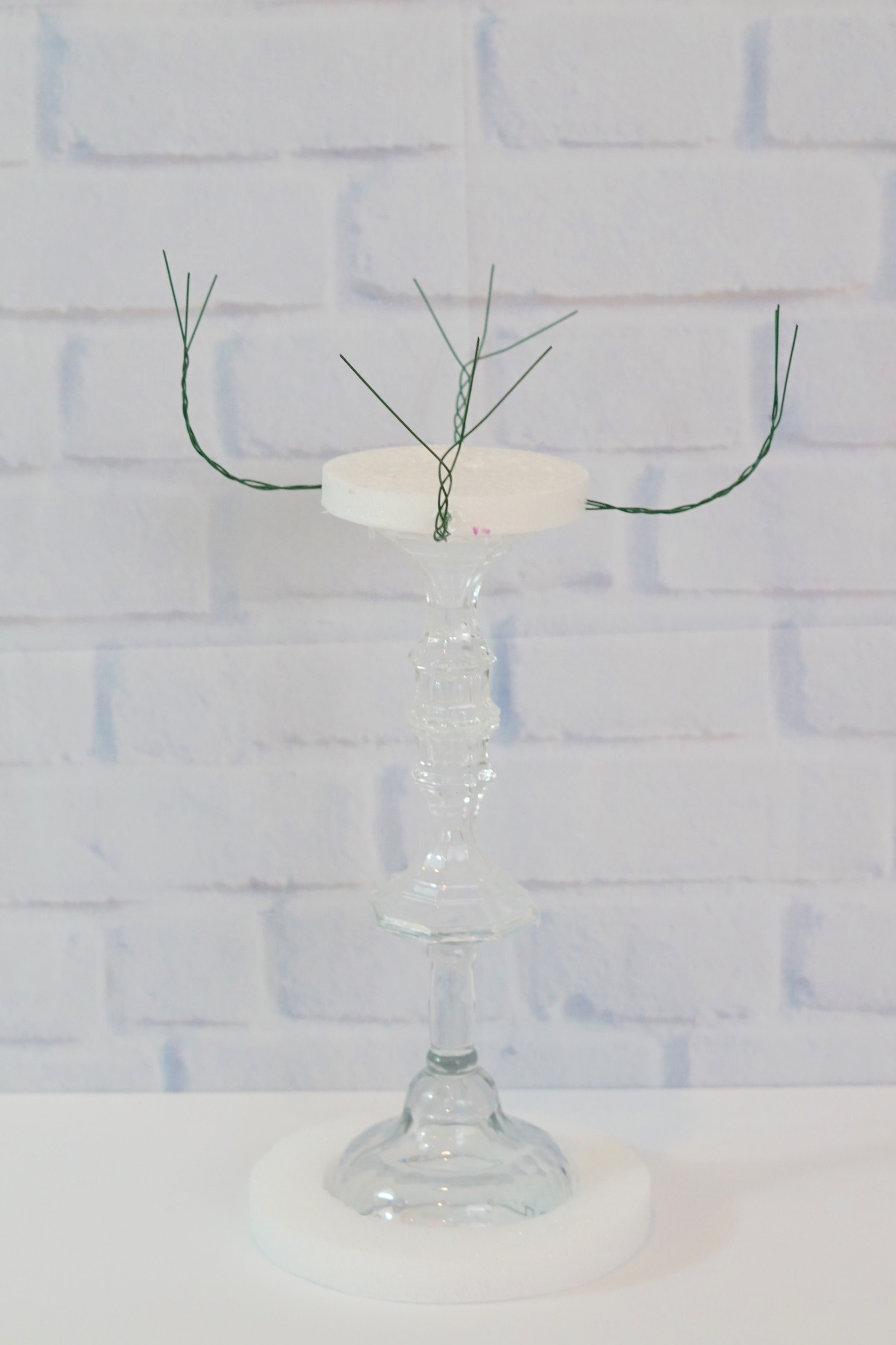 Wrap Your 4 Inch Discs with Pearl Trim
STEP 5: Wrap the sides of your 4 inch discs with pearl trim using floral pins and hot glue to secure the trim in place. Attach your 4 inch discs to the arms of your candelabra (the braided floral wire). Cut out the excess wire using floral wire cutters.
Add Your Tea light Holders to Your 4 Inch Discs
STEP 6: Place the floating tea light holders to the top of each 4 inch disc. Use hot glue to adhere your tea light holders. Wrap each of your candelabra arms in your pearl trim using hot glue to adhere the trim.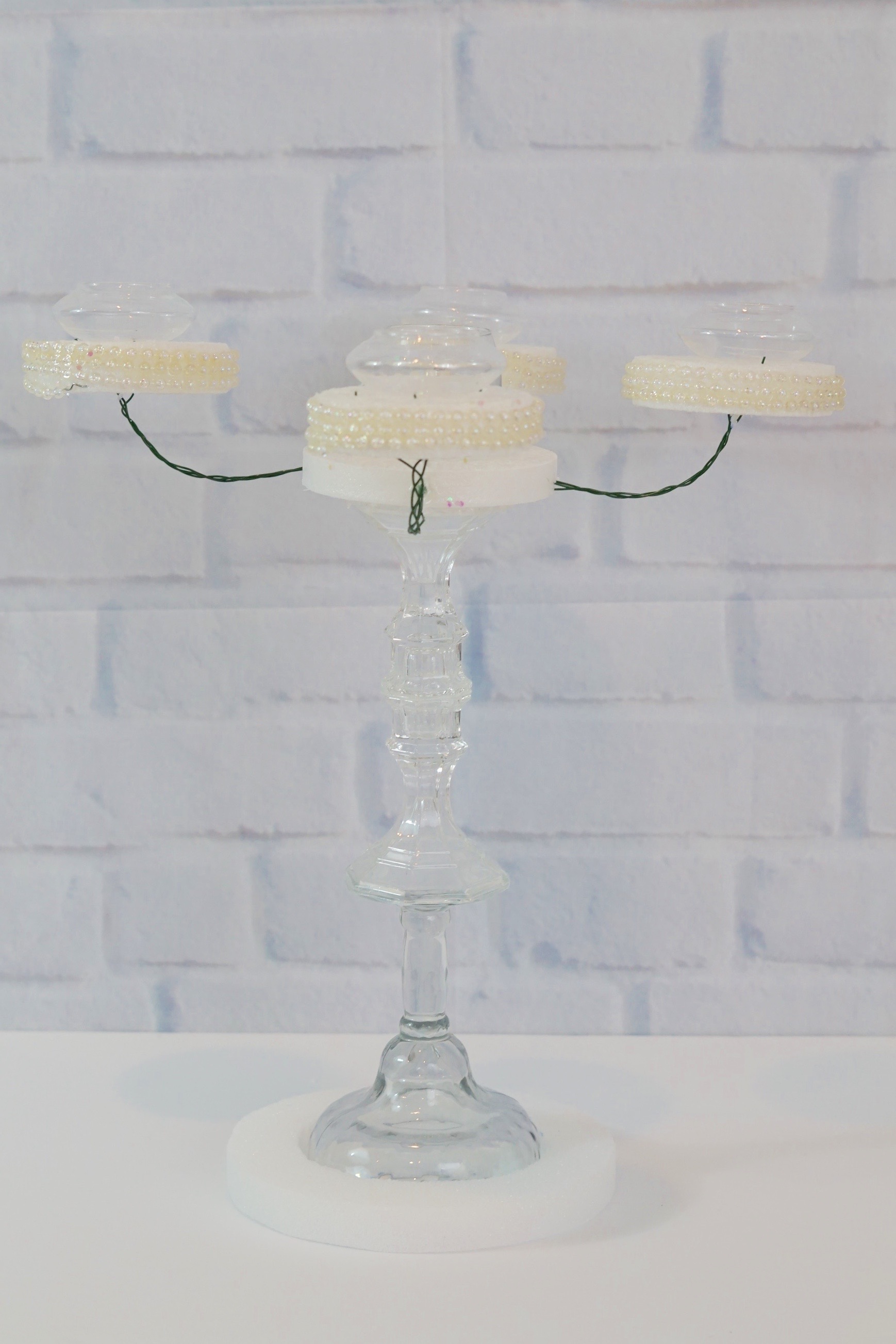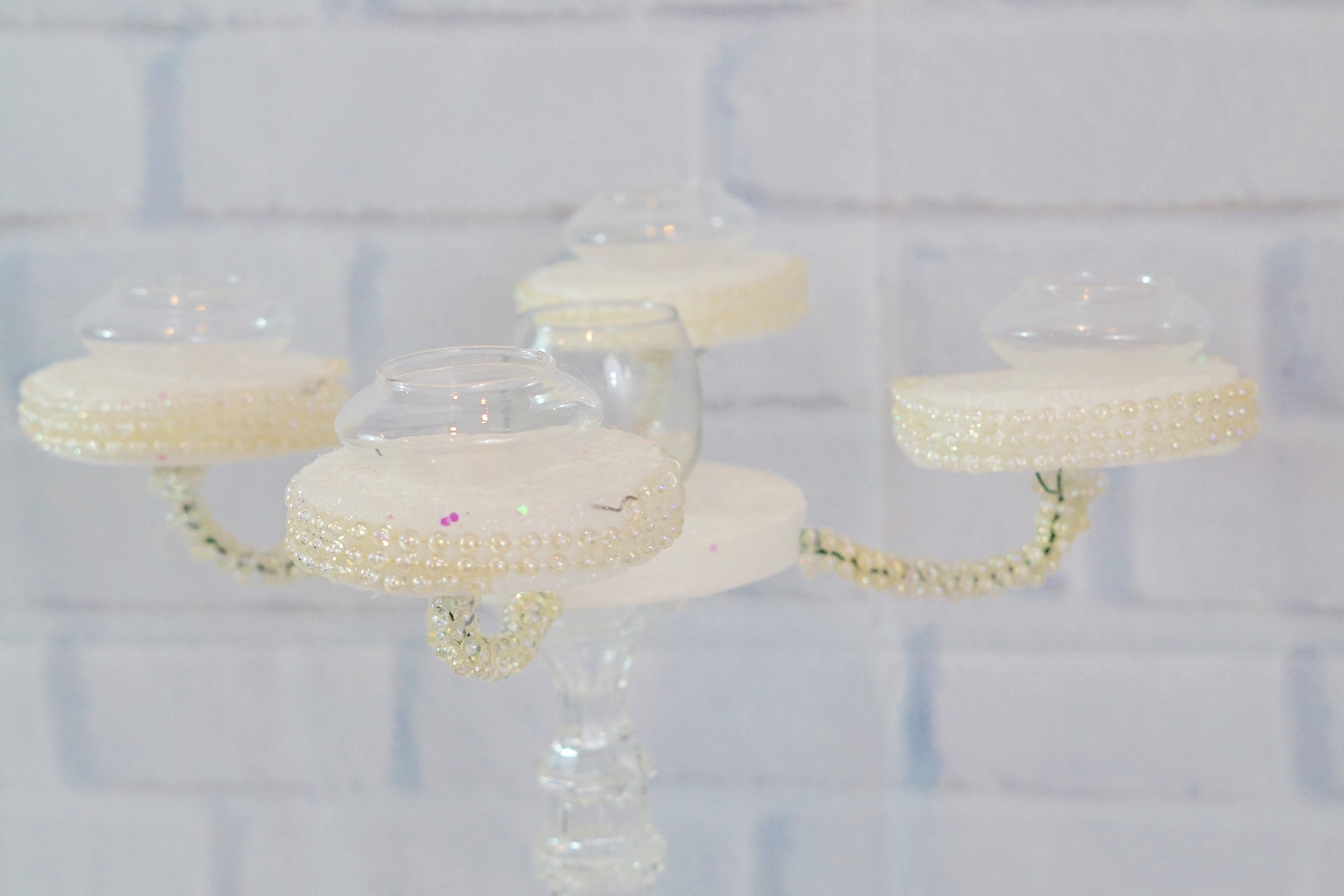 Attach Hydrangeas, Wisteria Stems, and Butterfly Orchids
STEP 7: Next attach 10-12 small hydrangea heads to the foam located on the base of your candelabra. Drape your candleholders using two wisteria stems and hot glue to secure the stems.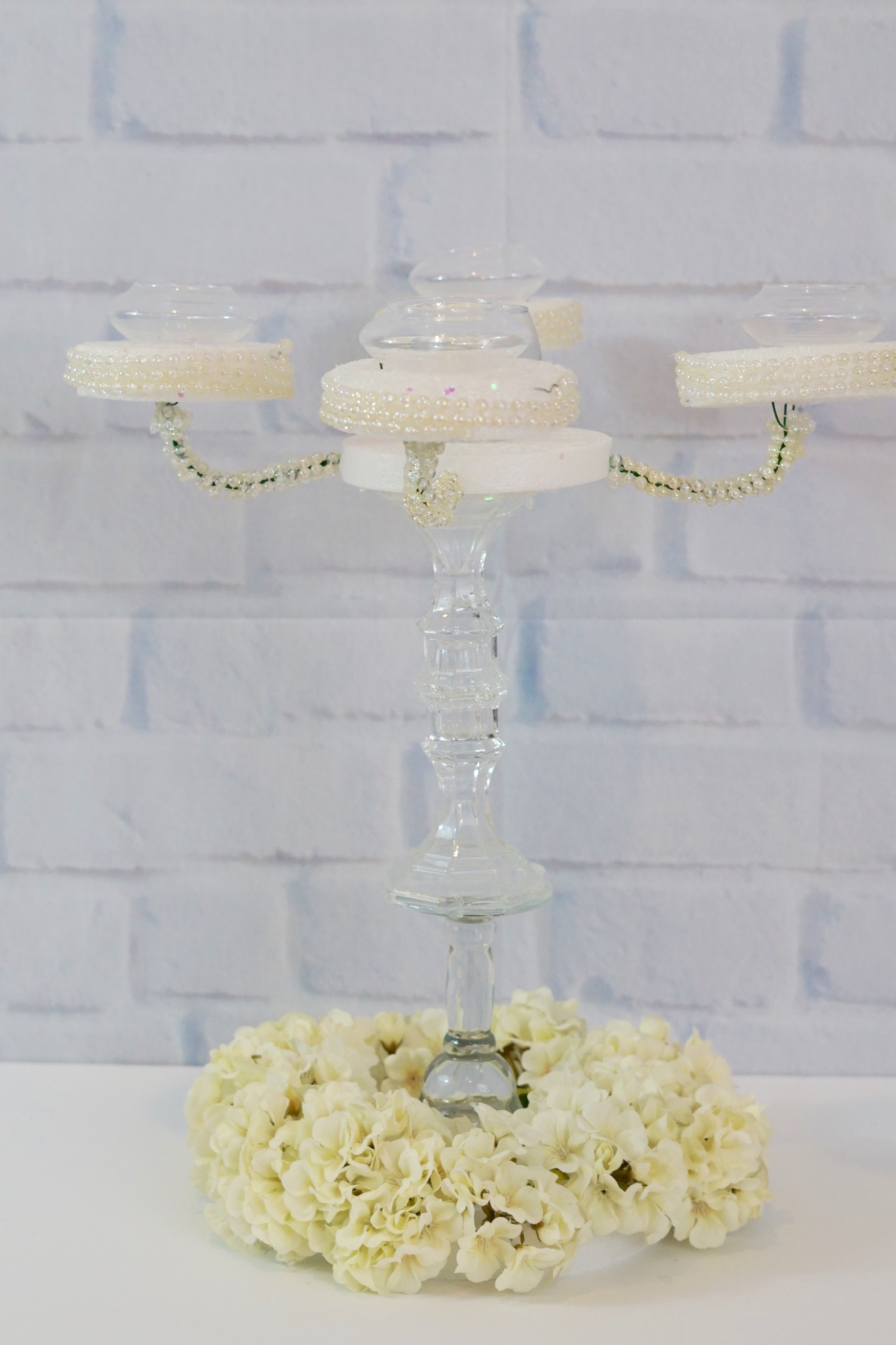 STEP 8: Take 18 inches of the same pearl trim, double it and attach it the the underside of your 4 inch disc using floral pins. Now add 10-12 hydrangea heads to your 6 inch foam disc.
STEP 9: To add a pop of color, attach about 2-3 butterfly orchids to the base and top of your candelabra. Lastly, add acrylic crystals to each of your 4 inch foam disc with floral pins.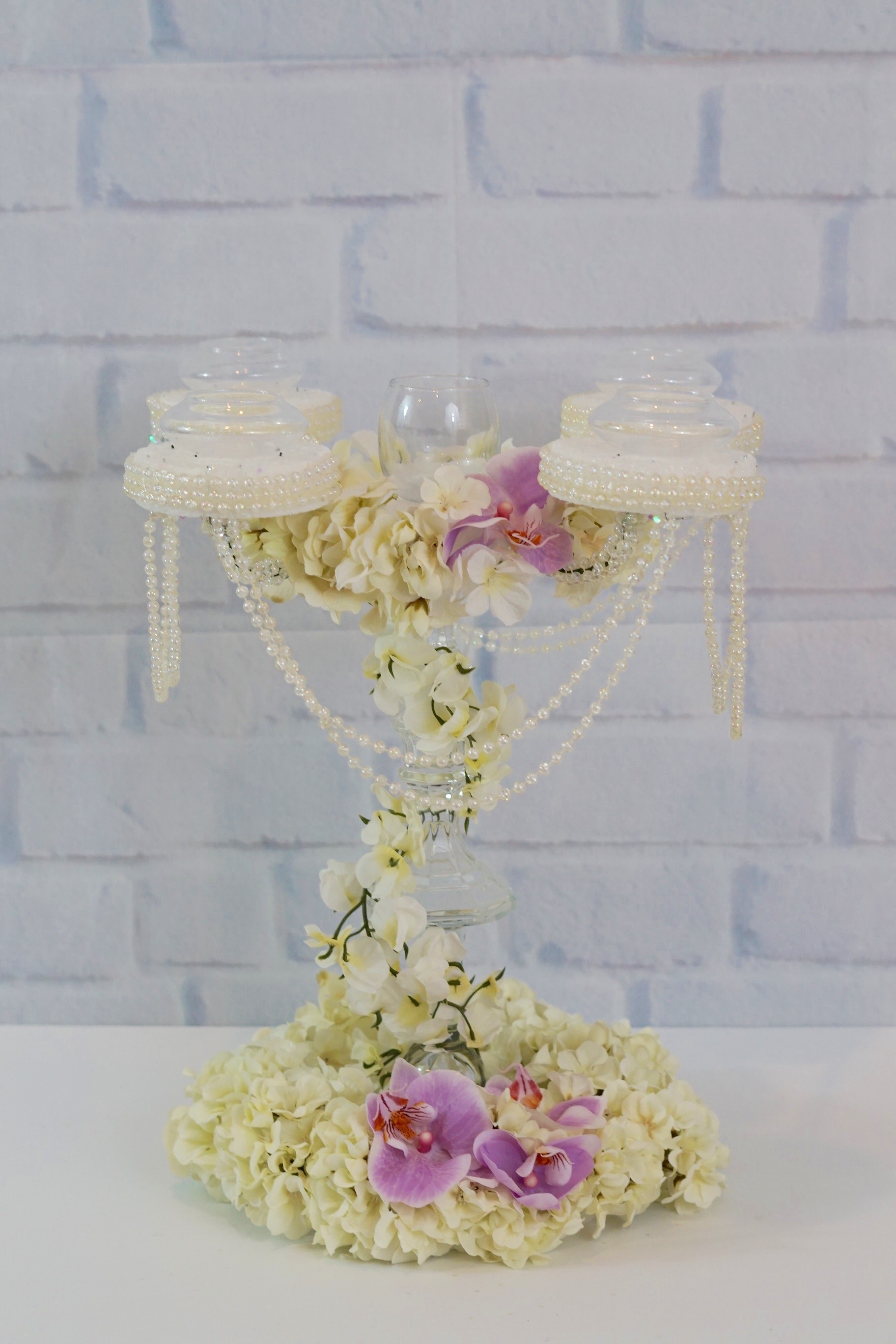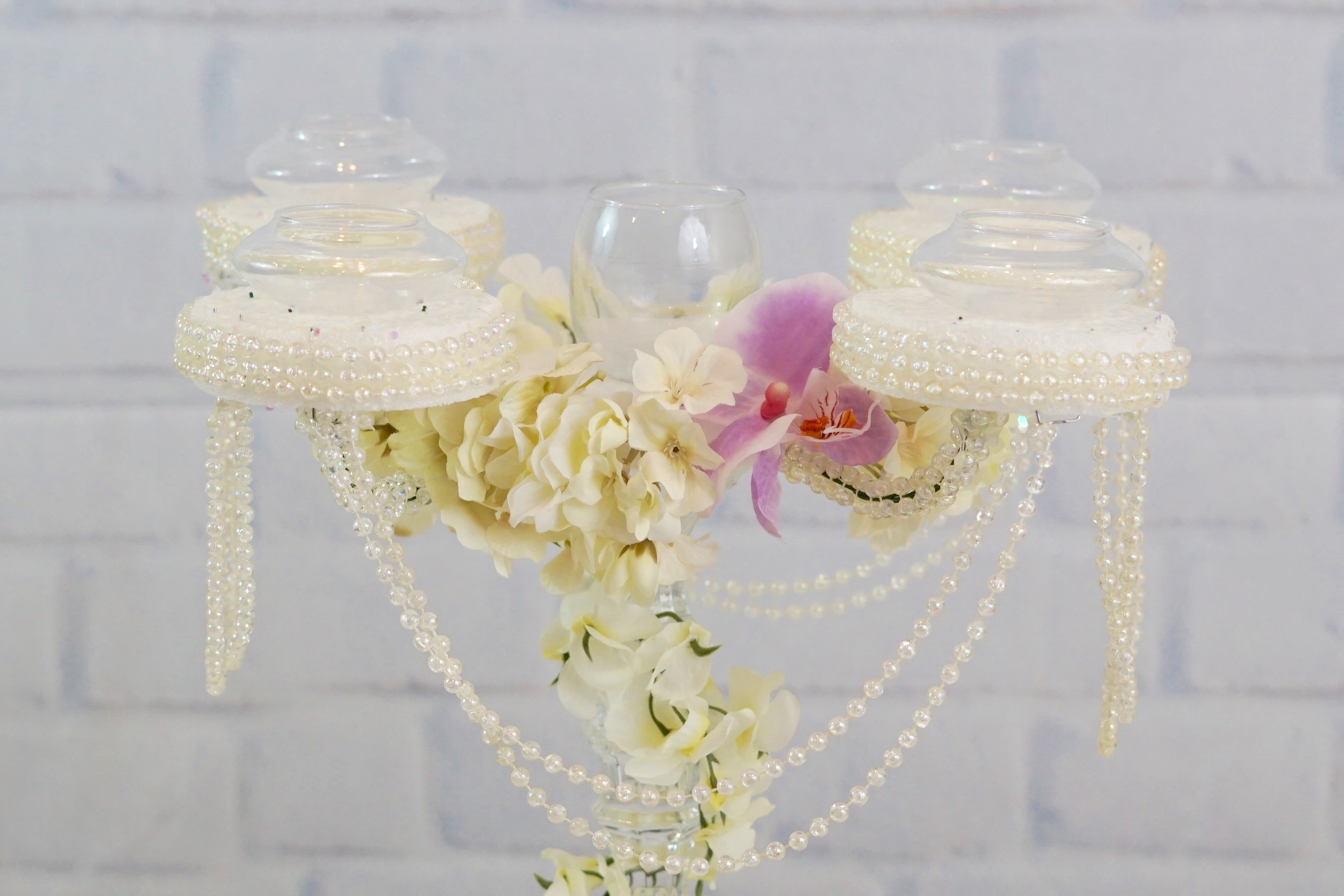 THE FINAL STEP!
STEP 10: Set the table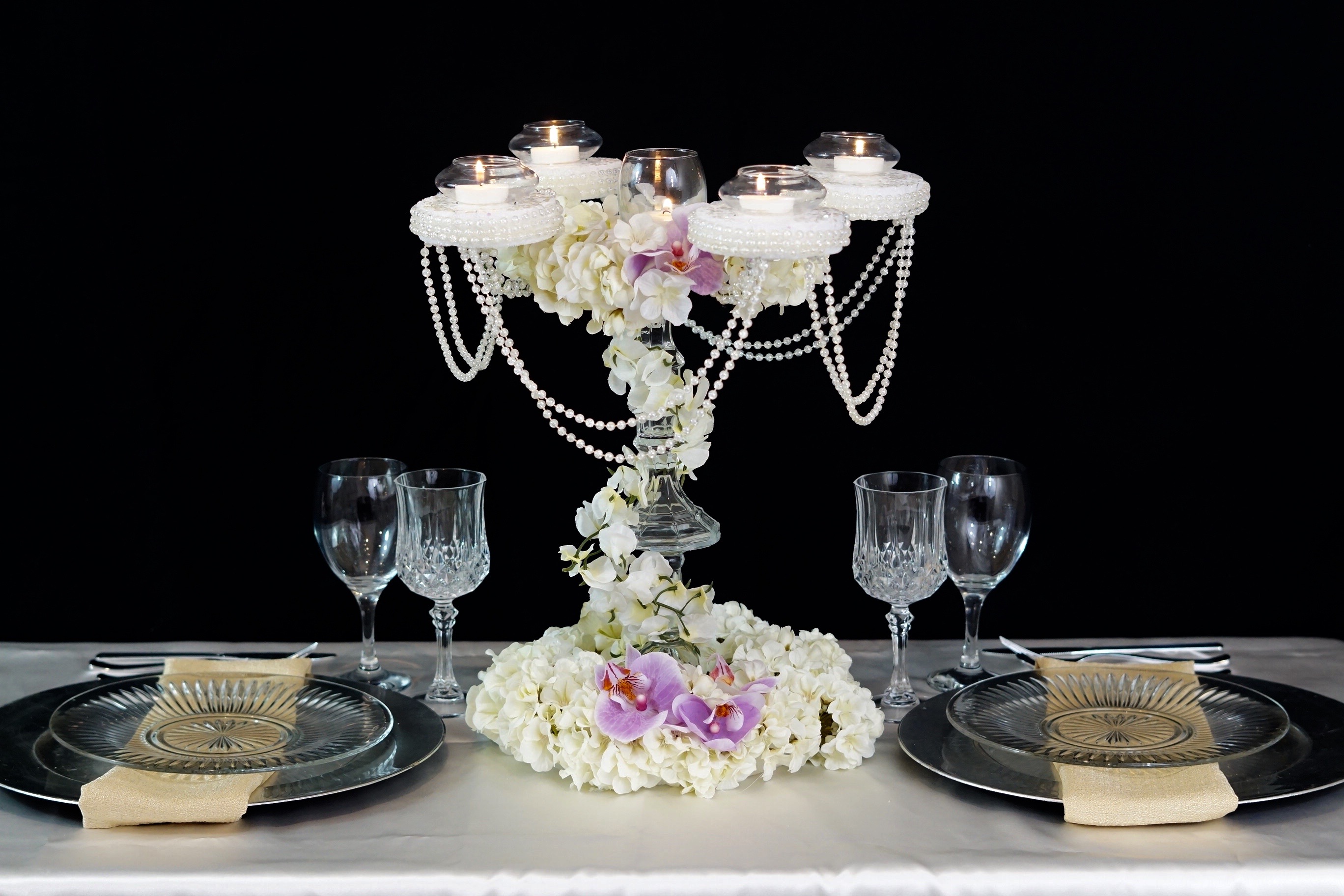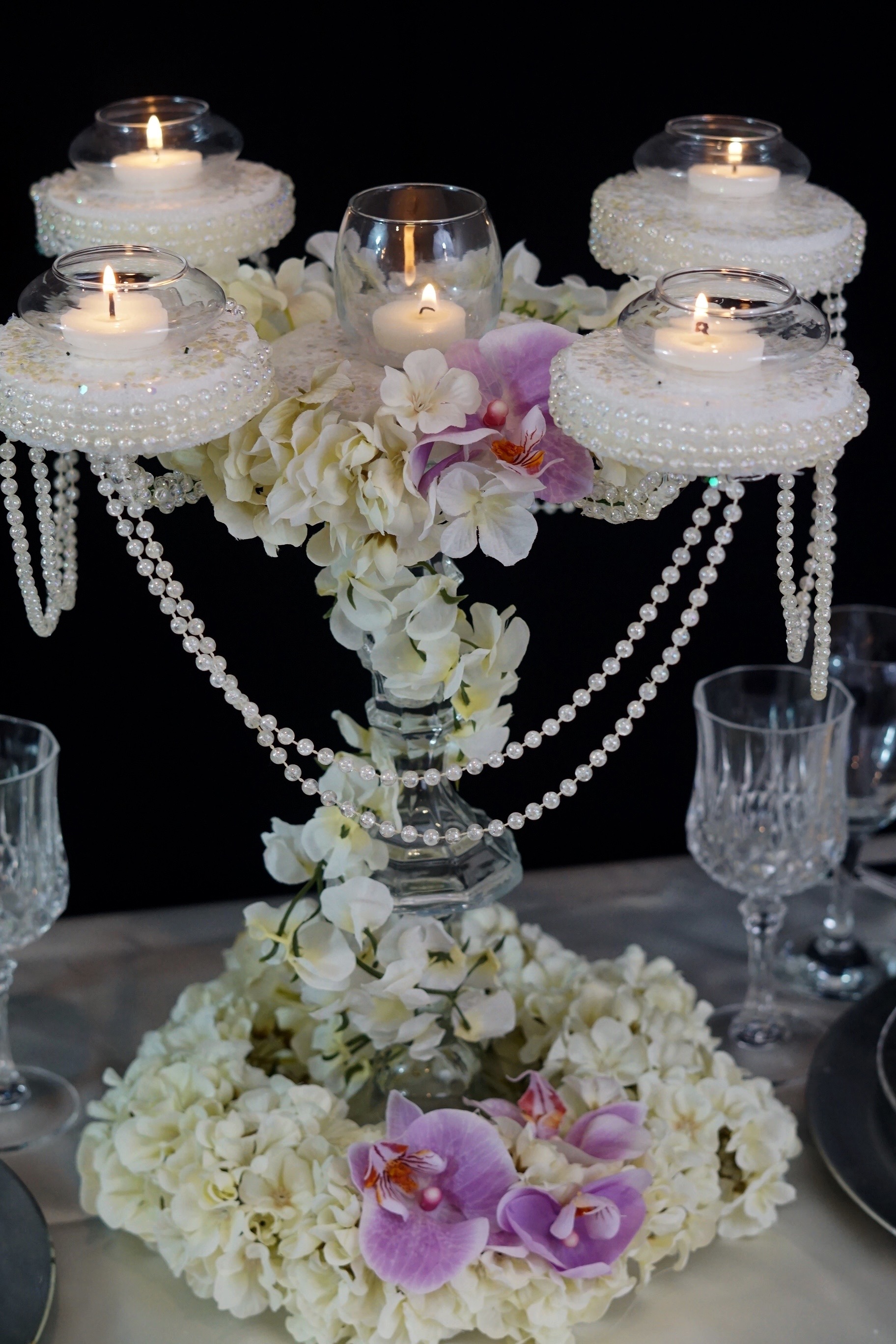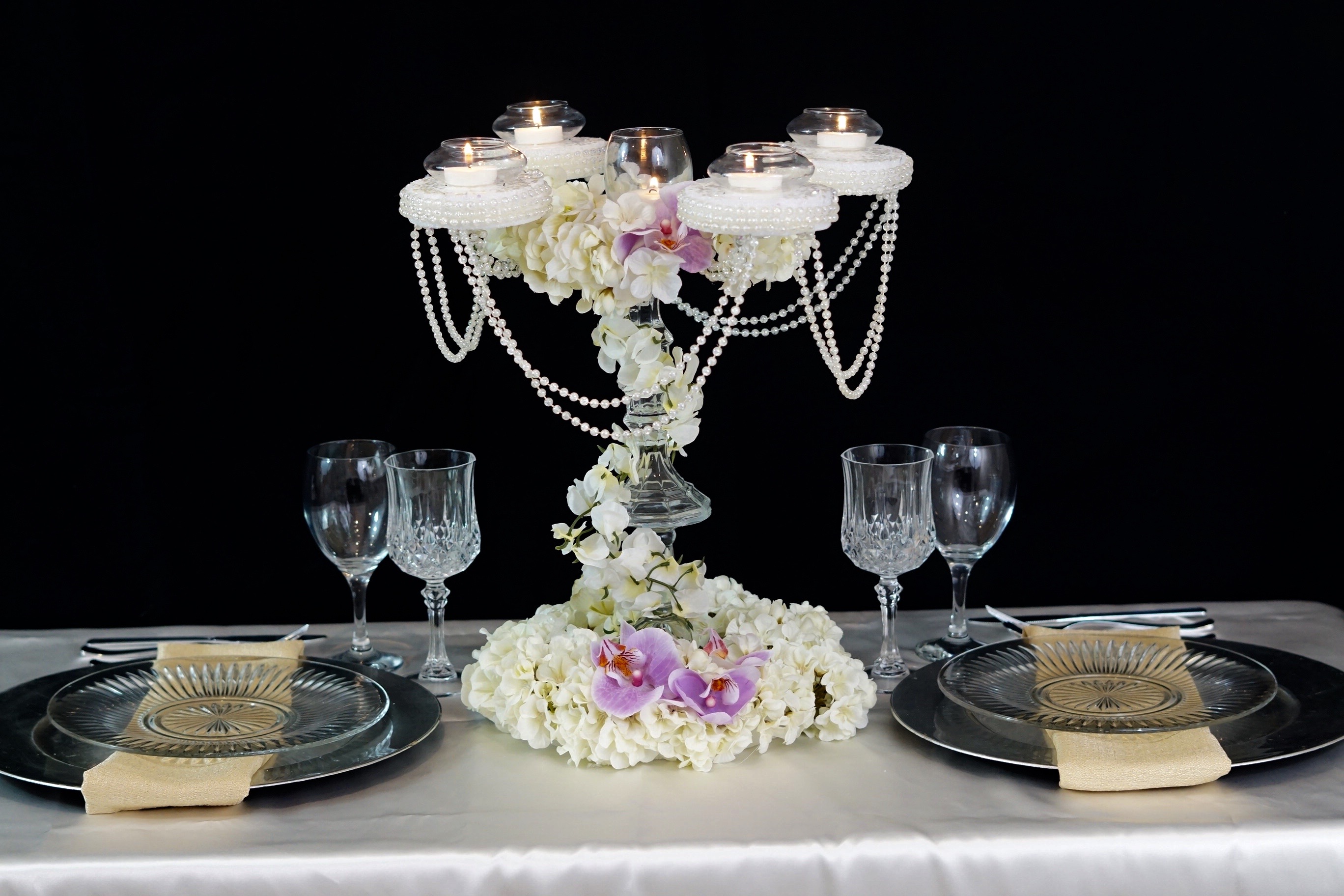 I absolutely love how this DIY Classic Candelabra Wedding Centerpiece turned out! The outcome is amazing and will definitely add that extra special touch to any event!
If you like the outcome please subscribe to our Youtube Channel for more DIY Videos and follow us on Facebook and  Pinterest.
Need help with an upcoming project? Be sure to send us a project request!
"Remember When Every Penny Counts, Count on MissPlanIt"